Two years ago I taught my Bargello Quilts with a Twist workshop and the Bear's Paw sampler class for the Walla Walla Quilt Guild. Aside from the thrill of being invited back to Walla Walla as the guest artist at their Quilt Festival, I was delighted when my former students brought their completed quilts to show me.
Here is Brenda Jones with her attractive 16-block Bargello quilt. Jan Eaton made a large bed-sized quilt with an elk panel in the center. This is a gorgeous setting and the fabrics in the blocks really match the colors in the central panel.
Betty Woods made two big bed quilts using the enlarged 9-1/2″ blocks. On the left is an on-point setting which includes large squares. The fabric is like a double wedding ring pattern with the a moon, sun, or earth in the middle of each circle. All the colors in the quilt are pulled from this fabric. In the quilt on the right, the blue sashing sits in between clusters of four blocks in which the largest squares come together. It's hard to believe that these two quilts are made from the same Bargello block.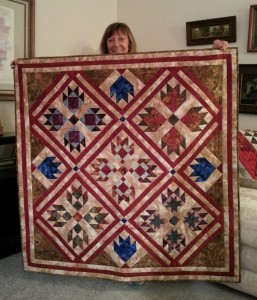 Pam Murray organized a barbecue at her house for all the show vendors, the local artist and me. Draped over her couch was her beautiful Bear's Paw sampler quilt made from five blocks with partial blocks in the setting triangles. She graciously held it up for me to photograph. I love to see that my students complete their projects and are proud of their accomplishments. It's such a joy to share in their enthusiasm.