Our annual Kitsap Quilters' Guild show was on 16th and 17th of February. In the next few blogs I will share some of the highlights. Our featured artist was Marybeth O'Halloran, whose beautiful work made a stunning display for us all to enjoy. Marybeth is a well-known, award-winning long-arm quilter from Bainbridge Island. Her work has appeared in books, magazines and other publications. In addition to her talent as a long-arm quilter, she is a precise piecer with a great eye for color and design.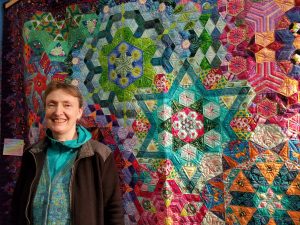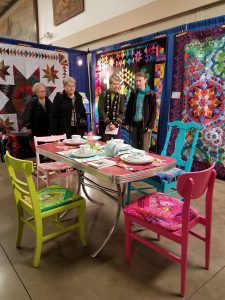 Here's Marybeth in her display area. Next week my post will be detailed shots of the lovely millefiore quilt behind her. She rescued the chairs from our Rotary Auction and friends' throw-aways. They are so whimsical in the bright colors and with the patchwork seats which Marybeth foundation pieced on denim for extra strength. She also made all the table mats, lamp shades and even fabric cup-cakes!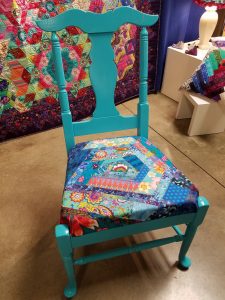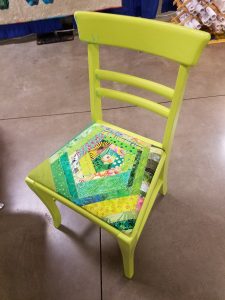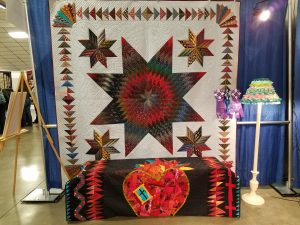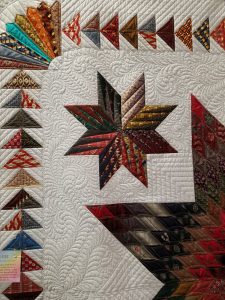 This spectacular Lone Star, Daddy's Home, was a commissioned quilt and is made from three generations' worth of ties set into a background of fine Italian shirting. The ties were stabilized with interfacing. The inset corner stars are from a Karen Stone pattern and Marybeth designed the rest of the quilt. Check out the details of her incredible machine quilting.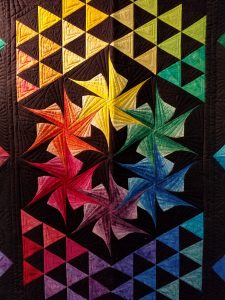 Rainbow Frankenquilt is sampler which began as a Pacific Fabrics block of the month from 2009 and then evolved to incorporate components from Marybeth's spare parts bucket. The center was originally a stand-alone wall hanging but it looks wonderful as the focal point in this quilt. This quilt is eye-catching with so much detail and variety in the components which all come together to make an extremely successful design.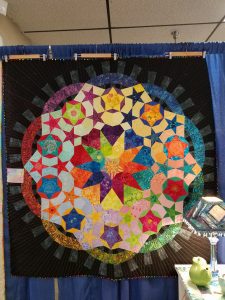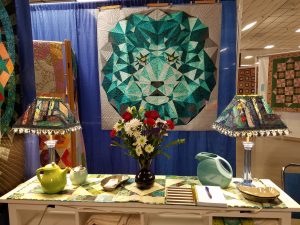 Corona, (on the left), is made from a pattern by Tula Pink. Marybeth modified it to be sewn by machine using an invisible zig-zag stitch to join the pieces instead of the hand-pieced English paper-piecing technique.This is a color-wheel within a color wheel, surrounded by coronal arcs to celebrate last summer's eclipse. The Lion, (pattern by Violet Craft), is a fresh modern take on a paper foundation pieced lion. Marybeth is a Leo and loves lions of all sorts. She used prints instead of solids and changed the palette to incorporate her favorite color, turquoise. Check out the lovely patchwork lamp shades too.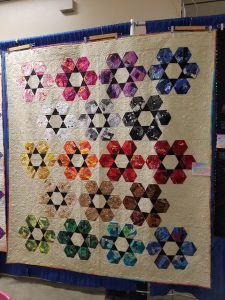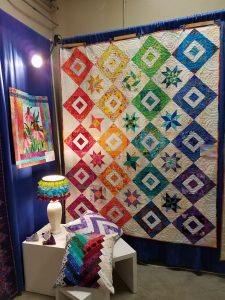 More rainbow colors with these quilts that pop. On the left, Free-pieced Posies. pattern by Atkinson Design, is one of Marybeth's first experiments in free-piecing on a polychromatic theme. She made sheets of fabric from scraps and then cut the sheets to the petal size. On the right, Modern Diamonds, was Marybeth's pattern designed to use as a sample for a scrap quilting class. It was made entirely from her scrap pile.