During my recent trip to Cornwall, UK, I had an unexpected treat after my UK quilting friend, Lesley Coles, told me about Cowslips Workshops. My sister and I went there, and oh, what a gem of a place! This Patchwork store, classrooms, cafe and exhibit space are located on a picturesque farm a couple of miles outside Launceston. Store owner, Jo Colwill resides at the farm and has turned the place into a regional patchwork destination infusing her love of fabric and sewing as well as running a fantastic cafe serving delicious teas and lunches. Here's a visual tour of the store and cafe. In next week's blog I'll illustrate the classroom and the current exhibit in the converted barn.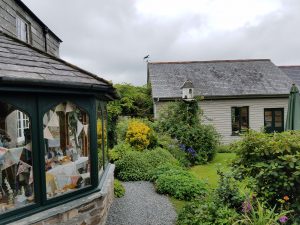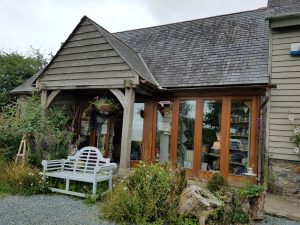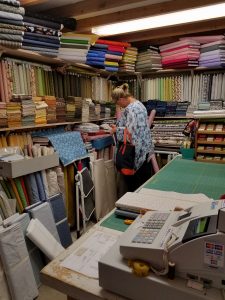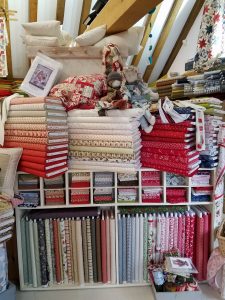 The store is small but the space is well used. There is a wide selection of fabric, quilting notions, books and patterns. The attractive quilt samples hang from the irregularly shaped walls and ceilings. There's also delightful whimsical pottery for sale.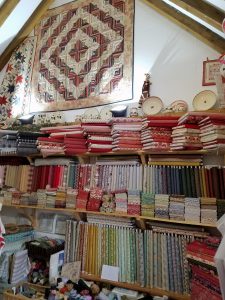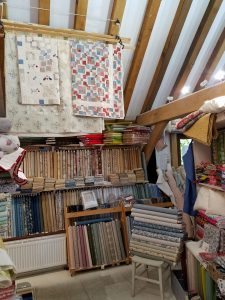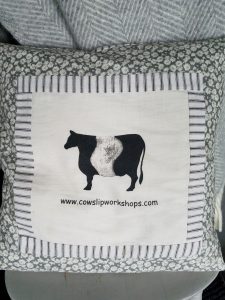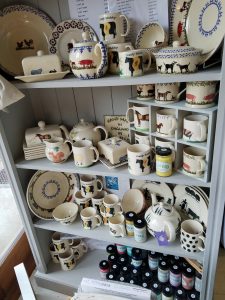 Here's the popular cafe, where the fare is all locally baked and the produce locally grown as much as possible. They even have their own garden growing fresh vegetables.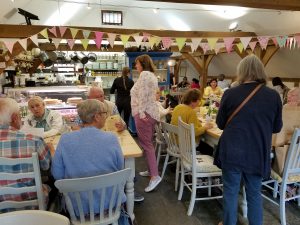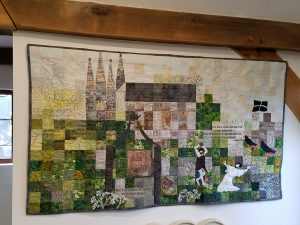 The lovely quilt on the wall of the cafe, depicting the local church, St. Stephen's, was made  by the store owner, Jo Colwell.