In October, I taught at the Thumb Butte Quilters' Guild in Prescott, AZ. I stayed at the lovely home of the Programs Chair, Kathleen Bond. Kathleen has an impressive body of work including many hand applique quilts. Her fabric choices and combinations are unusual and often very busy, but she has a way of pulling them altogether to make stunning quilts. My next couple of blogs will feature some of her work.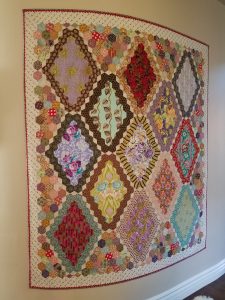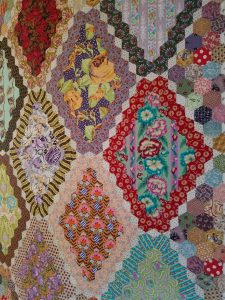 This hexagon quilt was one of my favorites. It was hanging wrapped around a curved wall in the Kathleen's hallway. Large print fabrics are featured in windows created by English paper-pieced hexagons with rows of diamonds in between. The pattern is 13 Panel Hexagon Quilt, designed by Brigitte Giblin.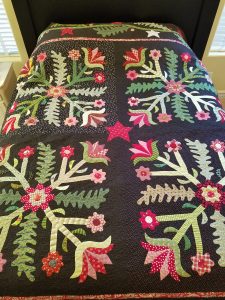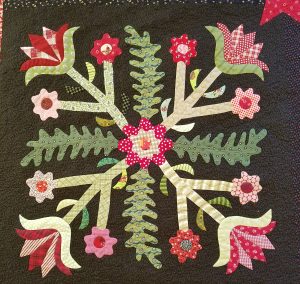 Kathleen made this gorgeous applique bed-quilt using a pattern by Jan Patek. She calls the quilt, Cowboy Christmas because many of the fabrics included are cowboy themed. It's a little hard to see this, but there are fabrics with cowboys on horse back, horse shoes, cowboy hats and boots and more. This quilt is stunning from a distance and so interesting close up to see the variety of fabrics used and what is hiding in there.