This week I traveled to Houston to give a lecture and teach a workshop at The Woodlands Area Quilt Guild on the north side of Houston, not far from the airport. The quilters gave me a warm welcome and I thoroughly enjoyed my time with them. Around 120 quilters attended the meeting and before my lecture they installed their new officers and all the members pledged allegiance to the group. I always like the Show and Tell at guild meetings and was particularly impressed by the applique quilts that were shown. The following day, I taught the Bears Come Out at Night workshop, one of my variations on the Bear's Paw block. Emphasis is on precision piecing and the small Sawtooth Star mini-blocks within the Bear's Paw blocks can be a little challenging. My students all did well and we had an enjoyable day.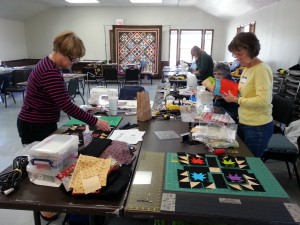 During the day of the lecture, the Program Chair, Carol Ayre took me out for a pleasant walk at the Mercer Botanical Gardens, then we went to Old Town Spring for lunch. Here's a photo of the local quilt shop, GRS Creations & Fabrics, which they refer to as "The Hidden Fabric Shop". From the outside it looks very small, but inside, the store extends back and includes several rooms with a large inventory of fabrics. If you are in the area, it's worth a visit.
Old Town Spring also boasts this supposedly haunted house which is over 100 years old. It has a colorful history as you'll see from the sign – ranging from a hippy commune to a funeral home and for over 30 years, 200 insect eating bats lived in the attic! The tall screened-in section housed several cooing doves.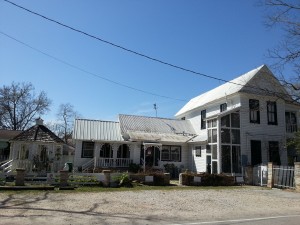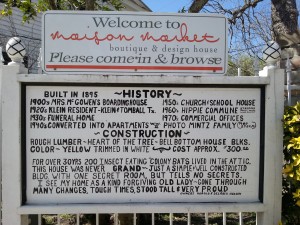 As you can see, we had glorious sunny weather and the 70 degree sunshine felt wonderful after the 48 degrees in Seattle. It was a good time of year to visit.