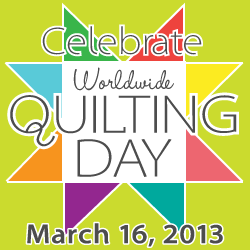 National Quilting Day, now Worldwide, was started by the National Quilting Association to highlight the creative, inspirational and unique world of quilting. Every year on the 3rd Saturday of March, quilters around the world set aside time to celebrate their love of fabric, quilting and fellowship with other quilters.
Here are some ideas of ways that you might like to celebrate:
Check out your local quilt store and support them by treating yourself to a fabric purchase. They may be holding special events this weekend.
Set aside some time to quilt. If not today, then at least a couple of hours in the next few days.
Put a new blade in your rotary cutter.
Clean the lint out of your machine and change the needle.
Organize your stash, or at least review what you have. You'll probably get inspiration for a new project.
Find something in your stash to give away – you could surprise a quilting friend, or donate something for charity quilt projects at your guild.
Send a message to a quilting friend expressing your appreciation for their friendship and/or praising them for their quilts.
I'd like to express appreciation for my on-going association with the Mongolian Quilting Center in Ulaanbaatar, and my now 9 year friendship with the Director, Selenge Tserendash. This has really enriched my life in ways I never imagined possible. In celebration, here's a photo of a quilt which was an international effort, designed by quilt teacher Lesley Coles of United Kingdom. I met Lesley in Mongolia when we collaborated in 2006 to organize the First International Quilt Show in Ulaanbaatar. The map of Mongolia is made from five panels. Panels from left to right made by: Connie Gilham (UK), me (USA), Selenge Tserendash and women at the Mongolian Quilting Center in Ulaanbaatar, Lesley Coles (UK), and Jane Grendon (UK).