By the time this blog posts, I will have just arrived in Mongolia to help celebrate the 10th Anniversary of the founding of the Mongolian Quilting Center. We will be hosting the Second International Quilt Show in Mongolia at The Department Store in the center of Ulaanbaatar, 6th-12th August. Several nations will be represented with quilts in the show including, UK, Australia, New Zealand, Holland, Turkey, USA, Japan, and of course Mongolia. I am taking some quilts to exhibit and will also be teaching while I'm there. Here is Tribute to Mongolia which I will be giving as a gift to Selenge Tserendash after the show.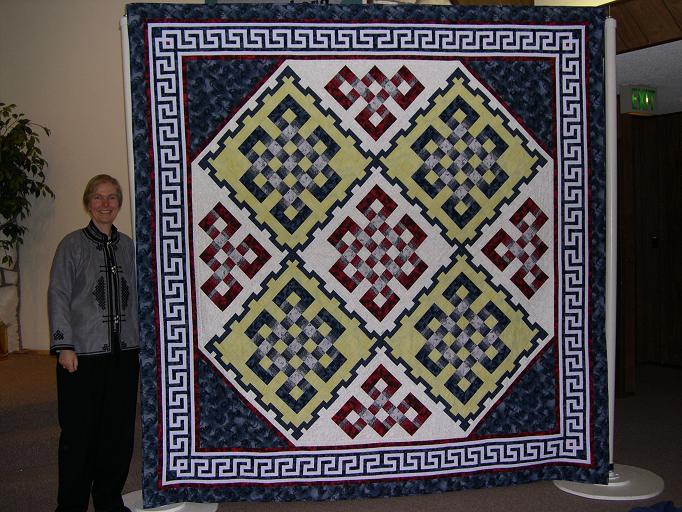 This is the largest quilt I have ever made, 103″ x 103″ and occupies a great deal of space in my suitcase! The big Olzii patterns are 20″ blocks and are the same as those used singly in my Gateway to Mongolia quilts (pattern available in my on-line store). This Olzii symbol is prevalent in Mongolia and often painted on the doors of yurts to bring long life and prosperity to the occupants. The border design was copied from a Mongolian blanket, but looks just like a Greek Key pattern.
Here are two more quilts for the show. Fiesta is one of my template-free Kaleidoscope quilts and I will be teaching this technique to the Mongolian women. Mind Games was made for a guild challenge to make a quilt using black and white prints and 30% of a solid color. The design was inspired by Christine Porter's book, Tessellation Quilts .
I am writing this a week before my departure and am in the thick of preparations, planning and packing. It will be an exciting trip and I'll be posting more blogs on my return.