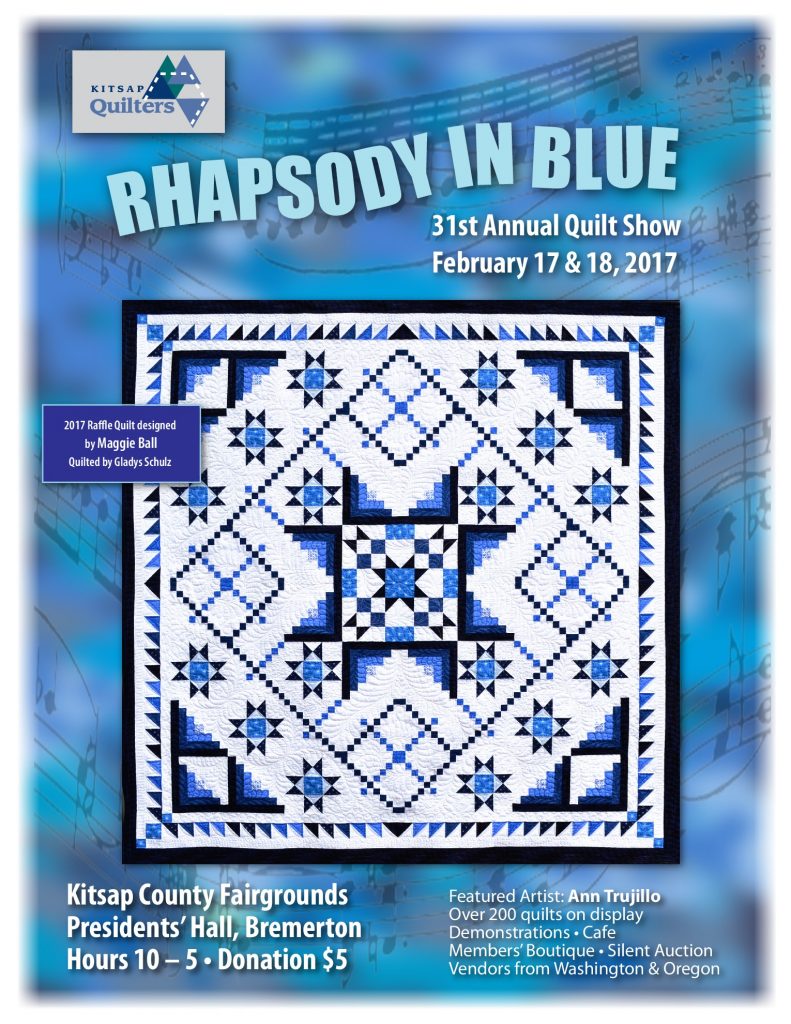 My local quilt guild show is coming up soon! See Kitsap Quilters website. I designed the opportunity quilt shown in picture and coordinated making the quilt (more on this in another blog). If you live locally, I hope you will plan on attending the show.
I am part of a team of four responsible for organizing peer judging of the show. This is a good educational opportunity to tell guild members, and also to publish in our program, the criteria that judges use when judging quilts. I will be orienting the judges before they begin the process. They judge in teams of three and care is taken to avoid having them judge a category in which they have entered a quilt. Guild members are given the option to enter their quilts for display only, but the vast majority opt to have their quilts judged. We don't have the time to write a constructive critique of every quilt, so we use a process of elimination and the team of judges has to come to a consensus. Judges are asked to consider the criteria when looking at each quilt, rather than simply considering whether or not they like the quilt. The names on the quilt labels are covered so that judges cannot see who made the quilts. Here are the judging criteria:
Visual impact of design and originality
Balance and integration of design (scale, relationship and arrangement of quilt components including borders)
Overall appearance (quilt is clean, free of odor, and hangs squarely)
General construction – workmanship (piecing, appliqué, borders even)
Level of difficulty/complexity of design
Special techniques (if applicable)
Hand quilting (stitches even size on front and back of quilt, starts and stops not visible, quilt marking lines not visible)
Machine quilting (stitches of even length, no tension problems – bobbin thread should not show on top and top thread should not show on back, starts and stops not visible)
Quilting design appropriate to quilt top, density of quilting consistent
Finishing (binding applied securely, evenly and accurately, square corners – no dog ears)
Feel free to copy this list for judging and educational purposes. It is based on the criteria used by the American Quilt Society and the International Quilt Association.