I spent two weeks in March teaching at four TX quilt guilds. Spring was definitely springing in TX, where they had unusually warm weather in February, combined with enough rain to make for a bumper crop of gorgeous bluebonnets. Here I am in Bryan, surrounded by these beauties. I loved the brilliant swaths of blue along the highways, then patches of rich orange Indian paintbrushes and areas of delicate pink primroses. Of course, time with quilters always involves visiting the local quilt stores and I relished several on the trip. Here are some lovely TX wildflower fabrics sold in most of the stores there, (check at a later date for blogs on the TX stores). These are so appropriate for this area.
My first engagement was with the Greater San Antonio Quilters' Guild. I taught my Op-Art Kaleidoscope workshop the day before the guild meeting. Several of my students continued piecing their blocks and quilt tops at home that evening, and here they are putting on a nice display during "Show and Tell" at the meeting. After the meeting, I did a half-day UFO class discussing quilt design and problem projects. The next stop was the Brazos Bluebonnet Quilt Guild in Bryan where I taught my Bargello Quilts with a Twist class.
From there I transferred to the Vereins Quilt Guild in Fredericksburg and The Hill Country Quilt Guild in Kerrville. In Fredericksburg, my students worked on precision piecing of triangles to make Sawtooth Star Bear's Paw blocks. Here are some partially completed blocks. My final class in Kerrville was the Gateway to Mongolia. In all classes, it was such fun to see the variety of fabric choices and results.
Visiting four quilt guilds made this trip logistically complex, but with careful planning and collaboration all went smoothly. As I was transferred between the groups, guild members took excellent care of me and made me feel welcome wherever I went. I taught five workshops and they were all different.  After packing the essentials of the quilts for my trunk shows and workshop materials in two suitcases and my hand-luggage, I only had 12 lbs left for two weeks' worth of personal effects. Both suitcases were within less than a pound of the maximum 50 lbs. I sent five packages of books, patterns and Mongolian items for sale by mail in advance. So, lots of stuff!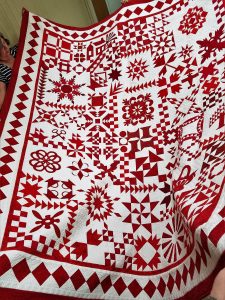 It's always inspiring to see the work of other quilters and I enjoy the "Show and Tell" at the guild meetings. I'm blown away by the talent and also the generosity of quilters who support many philanthropic organizations with gifts of quilts stitched with love and care. Guild members come together to make opportunity quilts as fundraisers for their guilds, the proceeds of which pay for education and the likes of me coming to lecture and teach. Here is the beautiful red and white raffle quilt made by the Hill Country Quilt Guild in Kerrville. The theme for their next quilt show, taking place on Memorial Day Weekend, is "A New Twist on an Old Favorite: Two Color Quilts" at which this quilt will be displayed. I am drawn to this traditional classic look and love this quilt. Talking of the generosity of quilters, I'd like to thank the members of the guilds of San Antonio, Bryan, Fredericksburg and Kerrville for their incredible support for the Mongolian Quilting Center. We raised a whopping $3,650!