I love teaching and a benefit of traveling to teach is that I have the opportunity to visit a variety of places. I'm always interested in seeing the local sights, especially places of outstanding natural beauty, gardens and art museums.
In my last blog I told you about the class I taught in Forks. Now I'll share some photos of the area. The Washington coast is spectacular and one of my favorite places, La Push Beach #2, is close to Forks. It's a real treat to go there. After a rainy Saturday when I was teaching, Sunday morning was bright and sunny, and I took a hike – 20 minutes through the woods to Beach #2.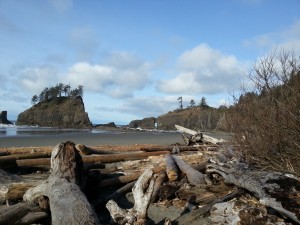 The high tide mark is covered in massive logs, which during heavy storms are tossed about and can be quite dangerous. I was there at low tide and scrambled over the logs onto the beautiful sandy beach where I peeled off my hiking boots and socks for a cold paddle in the Pacific Ocean. Here's the view with my feet in the water. I love the reflections.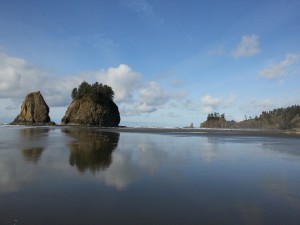 Now the view looking down the beach in the other direction. As you can see, the light was spectacular and enhanced this truly magical place.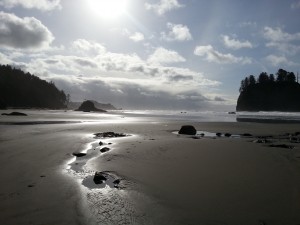 After my fix of the Pacific, I set off for home. Highway 101 skirts Crescent Lake for about 10 miles. At the head of the lake, I couldn't resist stopping to take some photos. The tops of the hills had a dusting of fresh snow and it was so pretty.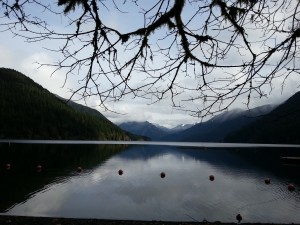 The annual precipitation is high here, (around 100″ in Forks), and the branches of the trees in this temperate rain-forest are covered in mossy blankets.