I was in awe of the of the beauty and incredible hand work displayed at the quilt show. These hand quilted applique quilts represent hundreds of hours of devotion and fine workmanship. I love these quilts with their floral splendor creating an impact from a distance and then they reveal marvelous details close up. The Japanese are known for their meticulous workmanship. There were 40 quilts In the Hand Quilted Quilts category, 22 of which were made in Japan. I'm showcasing three here, two of which are Japanese.
Look Up at the Blue Sky, 77″ x 77″, was made by Toyoko Nakajima of Japan. This quilt won the third place award. The design is original and reminds her of a heart filled with love and brings a smile to her face. It brought a smile to my face too!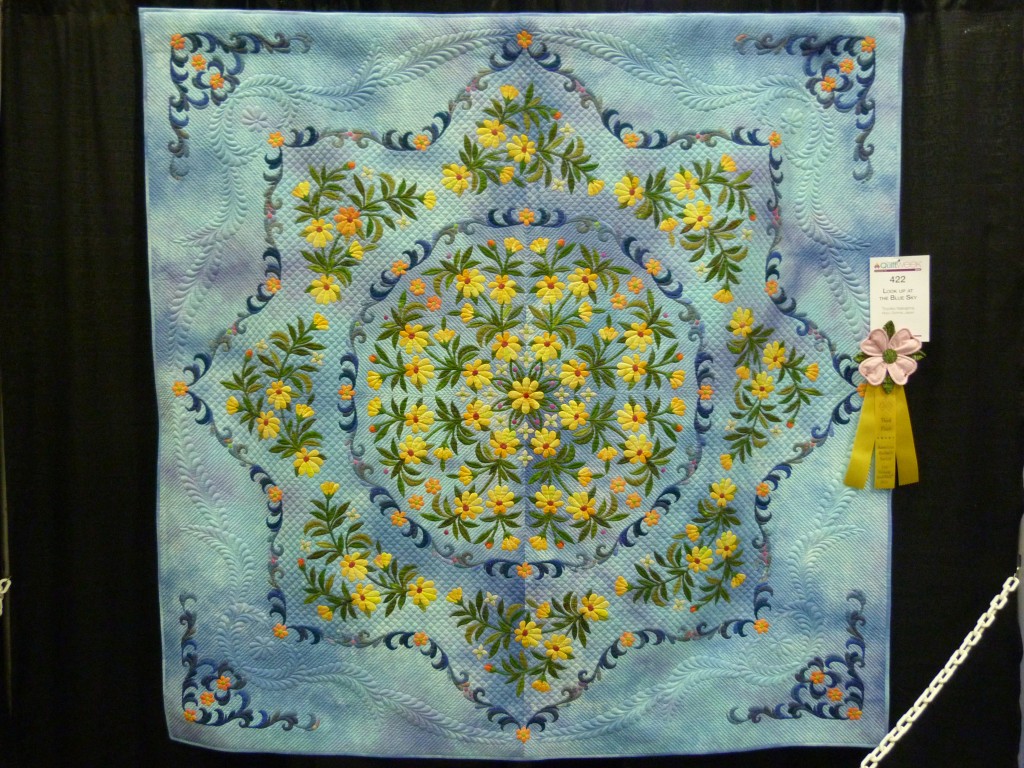 Mie Totsu of Japan is the maker of Bright Autumn Day, 72″ x 82″. She made this quilt to depict a calm autumn day with the flowers and fruits under the gentle sunlight. I like the tonal quality of the background fabric, bringing a soft look to this gorgeous piece.
Heralds of Spring, 80″ x 80″, was made by Joann Webb from Grain Valley, MO. The spring flowers include dandelions. Flower sprigs are arranged as petals in one large flower head. The dimensional elements such as ruching in the dandelions and daffodils and what look like tiny folded yo-yos for the lily-of-the-valley really enhance the piece. This is a truly magnificent quilt.