My current major quilting project is a commissioned bed-quilt. My client is reasonably local, so we have met several times. I have been to her house to get a feel for the ambiance and her color pallet and she visited me to look at my quilts and tell me what she liked. She wants something traditional and geometrical in purple, magenta, orange and turquoise, and was drawn to my Feathered Star quilts. We decided on a large 28″ Radiant Feathered Star for the center of the quilt with a 9″ compass in the middle.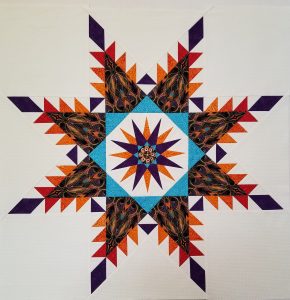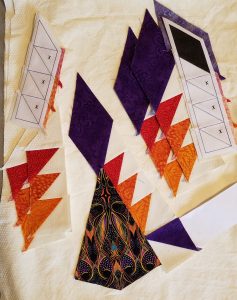 I fussy-cut the Paula Nadelstern fabric for the star arms. As shown in the photo on the right, the triangles making the feathers are foundation paper pieced and are in a color gradation of oranges. Next, I made four 16″ diamond star blocks, strip-pieced with fussy-cut center diamonds from the same Paula Nadelstern fabric.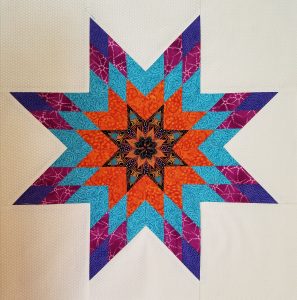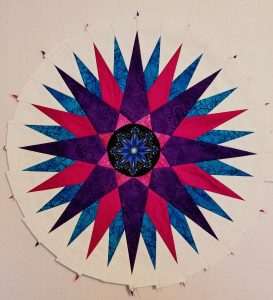 I'm now working on four compass blocks and have completed two of them. These are 14″ compasses with 32 points. For these, I am using Robin Long's strip-piecing method and special ruler. Her technique is really slick and very accurate. It took me about eight hours to make this compass including hand-appliqueing the center circle. Check out Robin's website. Once all the compasses are finished, I will work out how to put it all together and will be adding smaller Ohio Star blocks between these compass and diamond star blocks. The finished quilt will be in the 80-85″ square size range. In two or three months, I hope I'll be posting a picture of it!