On Saturday 8th September, the Bainbridge Island Modern Quilt Guild hosted the 6th annual Quilt Fest in downtown Winslow. Last week, I posted photos of an overview. In this blog and my next one, I will highlight a few quilts that particularly appealed to me.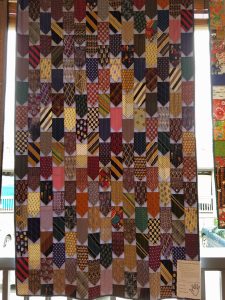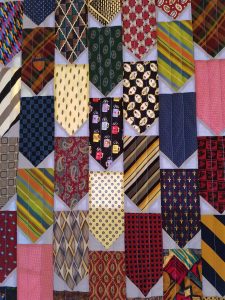 Off to Work, was made by Liz Walters who upcylcled thrift shop finds, using a wonderful selection of ties set on a background of men's shirts. The pattern came from the 2016 Art of the Quilt Calendar by Weeks Ringle and Bill Kerr. Liz opted to arrange the tie blocks vertically rather than horizontally.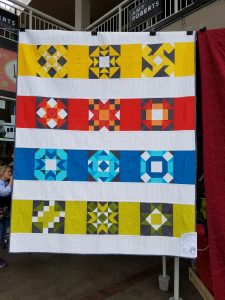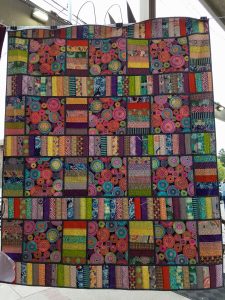 I love this double sided quilt, Color Play, by Katie Wilson. The two sides are so different but they work together. The back is playful and fun. Katie's quilt is based on the Power of Nine pattern by Sheri Noel using Sheri's quilt as you go tutorial.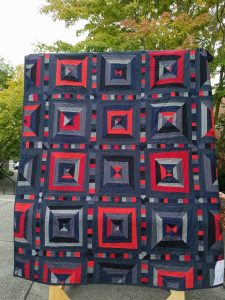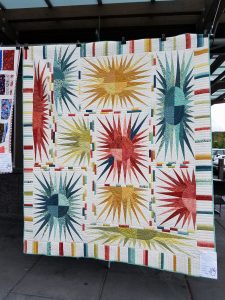 On the left, 680 Nanometers, (which is the wavelength of red light), was made by Erica Page Johnson. Erica challenged herself to work with a dark, low-contrast palette, but could not resist adding the pop of bright red. The quilt is the result of a Katie Pedersen's Psychedelic Baby workshop. The large stitch quilting is by hand. On the right, Desert Knock Off, was made by Honora Dunkak and quilted by Marybeth O'Halloran. The pattern is by Valerie Wells and Honora found it when visiting Valerie's store, The Stitchin' Post, in Sisters, OR. Honora diverged from the pattern, choosing different colors and placements of the blocks. This is a spectacular quilt.