On Saturday 8th September, the Bainbridge Island Modern Quilt Guild hosted the 6th annual Quilt Fest in downtown Winslow. A couple of weeks ago, I posted some overview pictures. Last week's blog and this one highlight a selection of quilts which particularly appealed to me. Marybeth O'Halloran's New Hexagon Millefiore quilt was absolutely magnificent. I posted pictures of this in February when Marybeth was the featured artist at our Kitsap Quilters Guild, but it deserves airing again.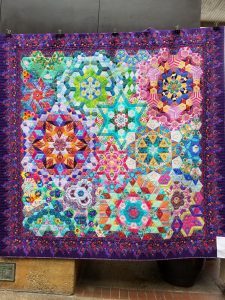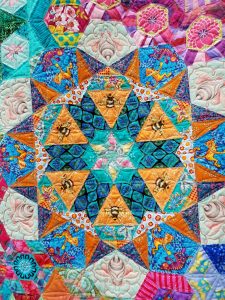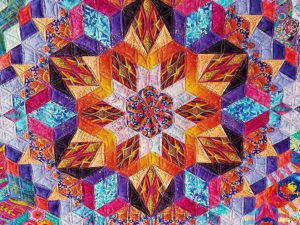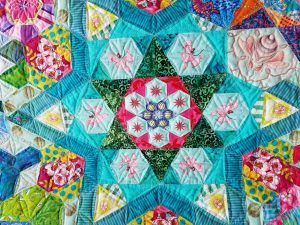 This was a block of the month English paper piecing pattern designed by Katja Marek to go along with her New Hexagon block.. It was constructed using both hand and machine sewing and took Marybeth almost three years to complete. The attention to detail and fussy-cutting of animal motifs such as the bees and poodles shown make this quilt all the more remarkable. Marybeth is a master at her long-arm machine so the whole quilt is enhanced by her beautiful quilting. Visit her website here.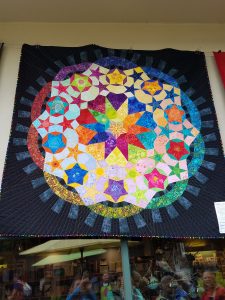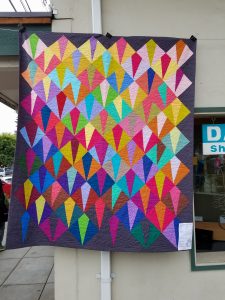 On the left is another of Marybeth's quilts, Corona, made using the Tula Nova pattern by Tula Pink. Marybeth made it into a color wheel and enjoyed doing the English paper piecing by machine. The colorful quilt on the right is It's Always Wine O'clock in Napa made by Monca Guckenheimer and quilted by Dionne Matthie-Buban. It was started in a workshop by Denyse Schmidt in Napa. Students took sample blocks and experimented with the shapes, sizes and placement.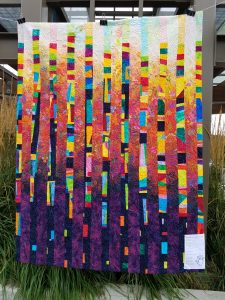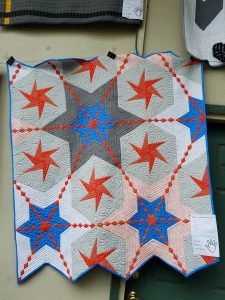 Here's another vibrant and colorful quilt. Behind the Waterfall was made by Kendra Allen and quilted by Marybeth O'Halloran. It began as Total Chaos by Karla Alexandra, but it wasn't chaotic enough so Kendra cut it into 2-1/2″ strips, sewed it back together again and added sparky crystals. I love the strongly stated star quilt on the right. Starfish was made by Dand Dimmick Scarp and quilted by Gladys Schulz. The pattern is Under the Sea by Barbara H. Cline. It uses a template that works with diamonds. The diamonds connecting the star elements add so much to this quilt.