It's always inspiring to attend lectures by renowned quilters and I was delighted to go to the Quilters Anonymous meeting in Edmonds this week for Pamela Mostek's presentation. I have been a member of this large and vibrant group for almost 20 years, but since my teaching schedule has become busier, I'm no longer able to attend many of the meetings.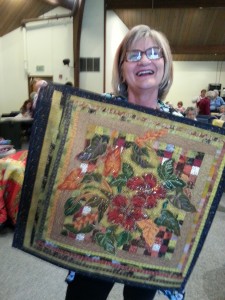 Pam began as an editorial and creative assistant to Debbie Mumm and then started creating her own patterns. She is the author of several quilting books published by Martingale & Co, designs fabric, makes unique art quilts and teaches all over the USA. She walked us through the evolution of her work and showed us many beautiful examples. In her first book, Just Can't Cut It, she uses large prints, the ones we really don't want to cut, in combination with simple piecing. The example below is made from Liberty of London's fabric in wide sections divided by rows of triangles and strips. What a great way to use this gorgeous fabric and to maintain the integrity of design on it.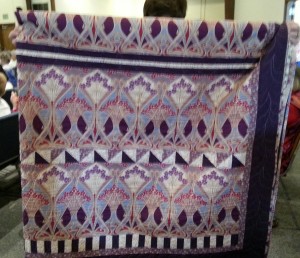 Then Pam fussy-cut 4″ and 2″ squares of large prints to feature flowers and combined these with piecing. These blend together beautifully on the example below and the light center makes the flowers pop out around the outside. As Pam continued to explore this idea she used the large prints around the border of her quilts and began fussy-cutting the actual flowers, broderie perse style and appliqueing them to make a nice transition between the floral border and the pieced center of the quilt.
The photos don't do these justice, but they give you some idea of how the work develops. From here Pam added glittery metallic threads and crystals to embellish her pieces. The details on this bag decorated with a cabbage and the floral piece are marvelous. Pam also shared some of her recent abstract art quilts for us to enjoy.
Quilters Anonymous is a talented group and the Show and Tell part of the meeting was a treat too. I came away feeling uplifted and inspired. I'm excited to be teaching my Gateway to Mongolia class for them this Saturday (tomorrow!).