At the end my week of teaching and sight seeing in Johannesburg two years ago, Grace Nobili and her friend Lesley took me to the Rosebank African Craft Market which is open every Sunday and located on the top level of the parking garage of a mall. I am hoping to visit again just before I come home this year.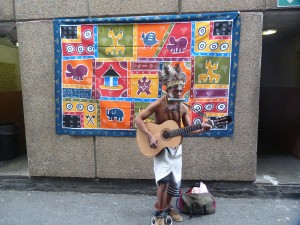 What a feast for the eyes! It was so colorful and inspiring. The beautiful beaded dolls and jewelry are typical of the Natal area.
These are made from hundreds of tiny seed-beads as are the gorgeous animals below. I bought a magnificent gemsbok (oryx) from this man who made all these creatures that are displayed. Some were as large as two feet tall.
There were many other colorful crafts. I loved the hand-embroidered squares of African life and animals. Here are several made into a fabulous quilt. There were plenty of vibrant paintings too.