In May, I taught my Gateway to Mongolia class at Quilted Strait in Port Gamble. I teach regularly at this store and I love it. The classroom has an abundance of work walls which is great for displaying my samples.
I had a small group of students and there was plenty of space for everyone to spread out and lay out the block components.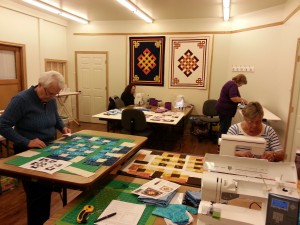 The block looks rather funky until it is pieced and the background setting triangles are added. It's always fun to see it come alive at this stage. We put the background fabric on the wall and pin the block to it, then the woven effect pops and is very pleasing. Here are two examples from the class. Every student chooses different fabrics and I love to see what they bring to class.
When this is posted, I will be in South Africa teaching at the 17th National Quilt Festival in Bloemfontein. I'm really excited to have this opportunity and they are keeping busy. I'll be teaching workshops for six days, two lasting one day (Gateway to Mongolia and The Bears come out at Night), and two lasting two days (Bargello Quilts with a Twist and Op-Art Kaleidoscope Quilts). On two of these six days, I'll also be giving lunch time lectures. This conference only takes place every other year and is a big deal. There are at least 20 teachers, one from New Zealand and the others from all over South Africa. The location of the conference, which includes a quilt show and several vendors, rotates around the country and is hosted by the local quilt guilds, this time by the Oranje Quilters' Guild. The theme is Kaleidoscope, so my new template-free technique is very appropriate. You'll be hearing more about my experiences after I get back. Perhaps I'll even learn some Afrikaans!