In October, I taught at the Thumb Butte Quilters' Guild in Prescott, AZ. I stayed at the lovely home of the Programs Chair, Kathleen Bond. Kathleen has an impressive body of work including many hand applique quilts. Her fabric choices and combinations are unusual and often very busy, but she has a way of pulling them altogether to make stunning quilts. Last week, I posted pictures of two of her quilts and this week I am presenting another three.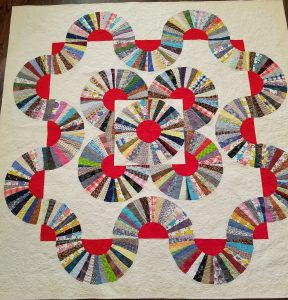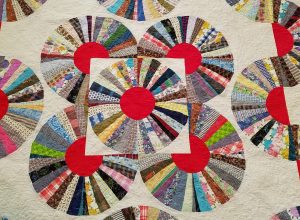 This Serptentine 1930's Fans quilt was made from blocks that Kathleen purchased at a Guild rummage sale. She assembled them in this striking layout and filled in the white spaces with beautiful quilting using her long-arm quilting machine. Of course, the person putting the blocks in the sale loved the finished quilt and regretted parting with them!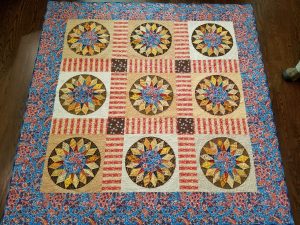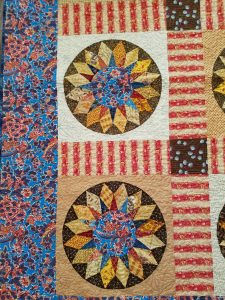 Pretty Rosettes, is Kathleen's original design. The nine sunflower blocks were hand-pieced and appliqued. Once again, Kathleen has used an eclectic selection of fabrics to create this beautiful quilt. Surprisingly, the wide striped sashing and wide borders work well to display the attractive blocks.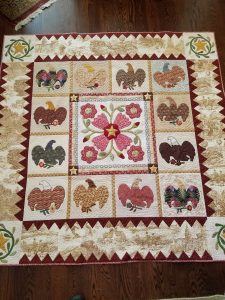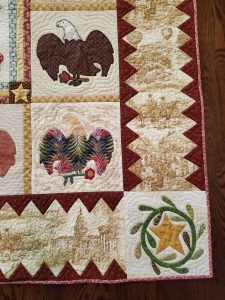 Going Away Eagles, is a quilt made from eagle blocks appliqued by Kathleen's friends and given to her when she moved from Colorado to Arizona. The fabric in the border is Colorado toile depicting historical Colorado scenes. I love the triangles separating the eagles in the center from the border and adding more contrast to the piece to make it alive and to highlight the toile fabric.
Kathleen's quilts are inspiring. As well as making a strong initial visual impact, they display her attention to detail as well as fine workmanship. It was a delight to stay with her and to be privy to her work.