At our recent Kitsap Quilters' Guild show, these wonderful animal quilts made me smile and I wanted to share them with you. We'll begin with the birds. The Rooster, was made by Terry Loy using a fusible applique pattern by Laura Heine. Most of the fabrics are Kaffe Fassett with additional pieces from Terry's collection to create different textures. I love this vibrant, colorful bird. Anne Trujillo made the Dancing with the stars bird quilt using Sue Spargo's book, Bird Dance, for inspiration. The vintage lace came from Anne's mother and vintage buttons were donated by Dorothy Thompson. Each bird has dupini silk beaded collar and a piece of Kaffe Fassett material. Check out the details on the close up pictures.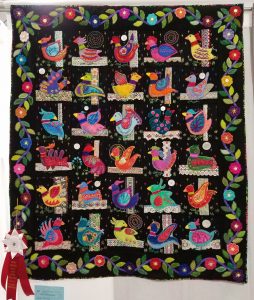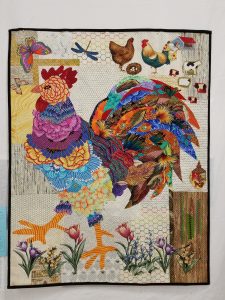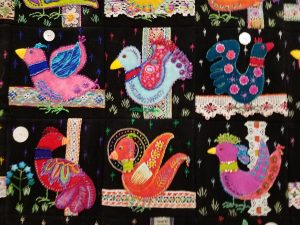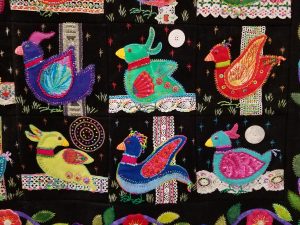 The detail on this cat quilt, Brownie, by Debi Snyder is amazing. This is Debi's original design copied from a photo, using raw-edge applique enhanced with heavy thread work in the quilting. Brownie was hiding in the Christmas tree and Debi snapped a photo.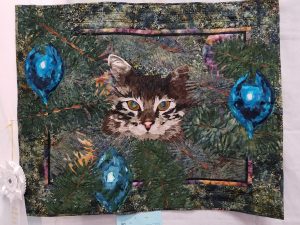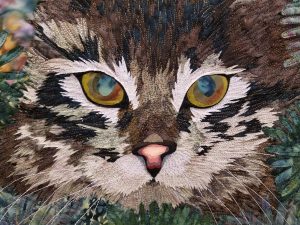 This playful fox quilt, Quilt for Kaci, was made by Sharon Broom from the pattern Kits 'n' Caboodle in Animal Parade, and quilted by Wanda Rains. Sharon used her own flowers and humming bird to improvise on the pattern. Jaxine Anderson made Giraffe using the fusible applique pattern Potpourri by Laura Heine. Jaxine loves giraffes and was captivated by this pattern. She collected the fabrics during a road trip to Chicago.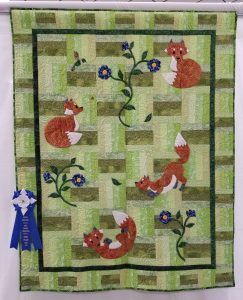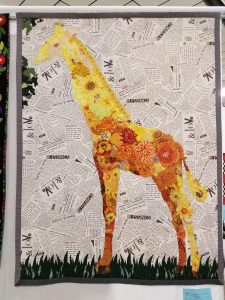 If I was in Charge, this rainbow of zebras, is an original design by Carol Bracher. Carol says "If I was in charge, zebras would be colorful!" She hand appliqued all the zebras' stripes and made fuzzy yarn tails for them.