At our recent Kitsap Quilters' Guild show, over 200 quilts were exhibited displaying the wide range of talent in our guild and a large variety of techniques used. In previous blogs, I've already shared pictures from our featured artist, some Round Robins and some animal quilts. This collection shows just some of the many quilts that appealed to me for a variety of reasons. I like quilts with strong designs and those in which the use of color and value enhance the patterns. The use of black in first two makes stunning backgrounds to intensify the scrappy colors.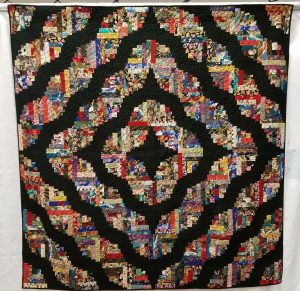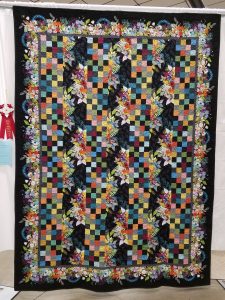 Linda Eakin-Johnson made this striking Curved Log Cabin quilt, quilted by Linda Moran, after taking a class from Ann Trujullo at Quilted Strait. She had a collection of Asian fabrics and used all 1,500 pieces! I love how the black fabric makes curved ribbons between the medley of scrappy logs. Checkerboard Garden, was made by Carol Kunold and quilted by Mirium Gill. The pattern is by Jason Yenter and I like how effective this very simple idea of a strippy quilt with assorted small squares and a fussy-cut large scale print with a black background works.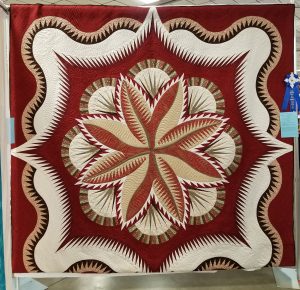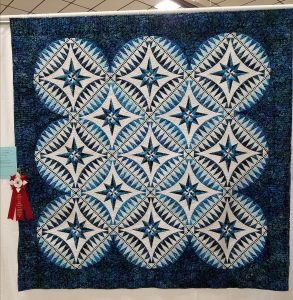 These two are very intricate with foundation paper-pieced triangles. On the left, Tumble, was pieced and quilted by Pam Knight. The pattern for this stunning quilt is Fire Island Costa by Judy Niemeyer. Pam dug into her stash of French General fabrics to create her own look. Her machine-quilting is exquisite and really enhances the quilt. Something Blue was made by Becky Rico and quilted by Teresa Silva, using a pattern by Jacqueline De Jonge. I have a soft spot for classic blue and white quilts. The next ones have a more modern feel.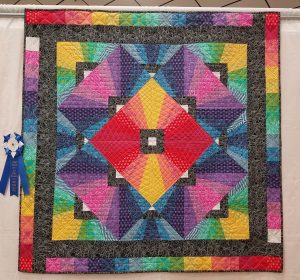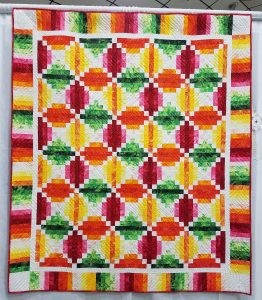 Marj Deupree made this Prism quilt which is so bright and dimensional, and the Fruit Slices, a variation on the Courthouse Steps Log Cabin, (pattern by Monique Jacobs). The use of color in these two quilts really makes them pop.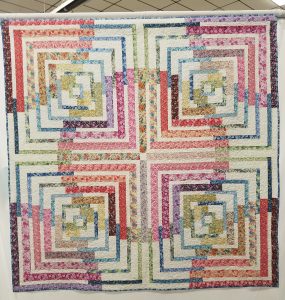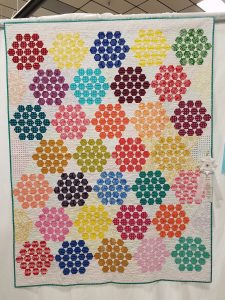 On the left, a-MAZE-ing, was made by Mary Ann Hooker and quilted by Linda Moran. Mary Ann used the Antelope Canyon and Garden Delights pattern by Laurie Shifrin. Her persistence with ripping and re-sewing after discovering mistakes in three out of the four blocks, paid off and the finished quilt is beautiful. Becky Rico made Hexie Hexies, (quilted by Linda Moran), after being inspired by an antique quilt of a similar design. She enjoyed updating this pattern with more contemporary fabrics and the white background makes it look fresh and modern.