The recent Association of Pacific West Quilters Show at the Tacoma Convention Center was, as always, a feast for the eyes. For the judged show, the entries are juried and only about half of those submitted are accepted. It's a national level show with many outstanding quilts. I'd like to share my Viewers Choice pick, "Spirit" by Georgia Pierce of Seattle which won third place in the Innovative Large category. Georgia's quilt was absolutely stunning and her execution of the beautiful Native American Indian designs was impeccable.
The quilt is her interpretation and inspiration from the designs illustrated in a two volume set of books, Learning by Design, by Karen Clark and Jim Gilbert. The label read, "The black sashing represents the formline essential to the art form. The white background provided an inviting canvas for quilting." Look at the detailed pictures of these gorgeous creatures and notice the intricate quilting designs in the white background.
The quilted Native American Indian designs and background textures really enhance this piece. It is not simply stipple quilted to death, but carefully thought out, the designs blending beautifully with the applique. I was excited when a white-glove lady came along to show us part of the red back of the quilt where the white stitches stand out even more. Georgia definitely made the most of the "inviting canvas for quilting".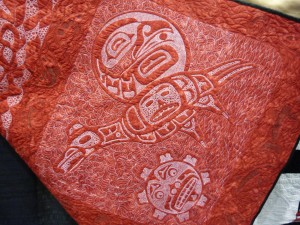 The trend over the last few years in quilt shows is for the heavily quilted glitzy quilts to win the major awards. While I can admire the amazing workmanship exhibited on these quilts, I find the overuse of metallic threads, stipple quilting and the multitude of tacky-looking shiny "crystals" distracting and detrimental to the quilts. I know there are many who disagree with me….. I'd welcome your comments and thoughts on this topic.