In my last posting, I told you about my favorite all-purpose quilting rulers. Today, I'll share the rulers I use when making 1/2-square and 1/4-square triangle units. When constructing these units, I make them a little larger than required and then trim them to the exact size so that they are really accurate.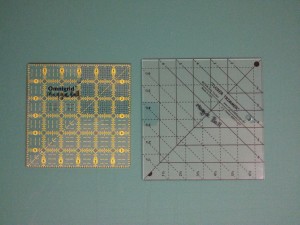 The Omnigrid 6″ square ruler works well and is widely available at quilt stores but the Tucker Trimmers I and II are much easier to use. When I taught at the Minnesota Quilters' Guild conference in 2010, I discovered these rulers. Jeff and Deb Tucker had a booth at the show and as soon as I saw Jeff give the demo, I was sold. At their website, Studio 180 Design, you can see video demos and order these rulers if your local quilt store doesn't carry them.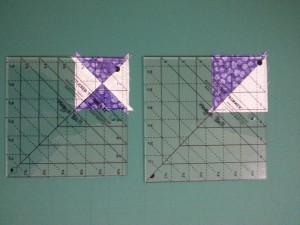 The Tucker Trimmer I ruler (on the right) is used for trimming to whole inch and half inch sizes. I have positioned it to trim my 1/2-square triangle unit to 3″ (whole black dot is on top right). If I turned it 180 degrees the half black dot would be at the top right and I could easily trim the unit to 2-1/2″. Trimmer Tucker II is for 1/4″ and 3/4″ sizes and works in the same way (with a 1/4 dot and a 3/4 dot to indicate the appropriate position). Like the Omnigrid 6″ square, these rulers have a diagonal line running from top right to bottom left, but they also have diagonal lines going the other way. When trimming a 1/4-square triangle units (as on the left) it is really easy to line up the center of the unit where these diagonal lines on the ruler intersect. Yes, it's two rulers instead of one, but the ease with which you can read the measurements and use them accurately makes it well worth the investment.