Last month, I taught in the Fort Worth area of TX and was fortunately to be able to visit the Kimbell Art Museum where there was a special exhibit, Lands of Asia, featuring items from the Sam and Myrna Myers Collection. Most of these sumptuous silk kimonos were made for use in the Japanese theater from the early 1600's to late 1800's.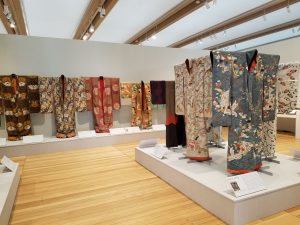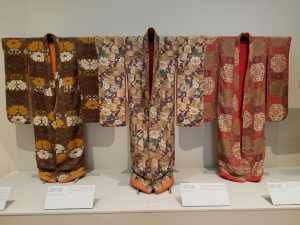 The kimono has been worn by both women and men in Japan since the sixteenth century. The T-shape is made from four strips of fabric folded in half and sewn together to form the sleeves and body of a robe that opens in the front. It makes an ideal garment for embellishment with elaborate decorative motifs.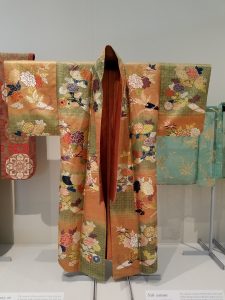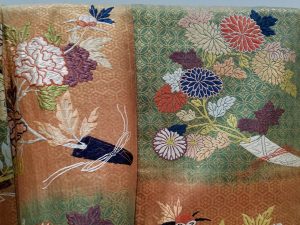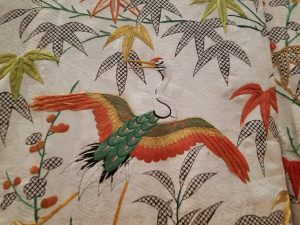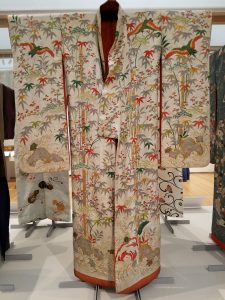 The weavers in Kyoto produced large quantities of brocade with colorful designs and gold and silver thread. Much of it went to the Noh theater where masked actors performed rituals and dance of scenes of mysterious tales to melancholic music. The costumes replaced the stage decoration and needed to evoke the condition and moral qualities of the characters by their colors and their motifs. They are stunningly beautiful with both woven and embroidered designs.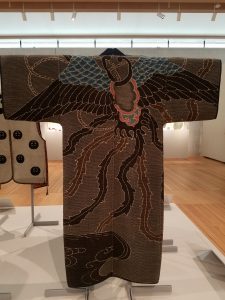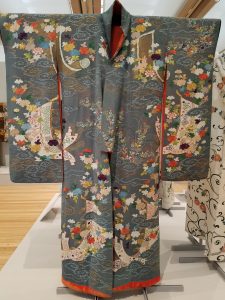 The picture on the right, immediately above, is an exception. This is a fireman's coat which is reversible. It is made rather like a quilt with layers of padded cotton (batting) between the outside and inside fabrics, all stitched (quilted) together. These thick kimonos were soaked in water when used in fire-fighting and would have been tremendously heavy when saturated.The design on it is a magic feathered cape, which flies in the sky above a stream like a phoenix. This image is drawn from mythology to evoke the notion of rebirth from the embers.