Continuing on the theme of Spring Quilt Market in Portland, another feast for the eyes was an inspiring special exhibit of some of the award winning quilts from the International Quilt Association's 2012 show, Quilts: A World of Beauty. I'd like to share some of these wonderful pieces with you. The photos don't do the quilts justice, but at least you will be able to appreciate the artistry, workmanship and variety.
I loved this quilt, Flower Quartet, which won Honorable Mention in the Mixed Techniques category, made by Yasuko Sugaya from Chiba, Japan. Her hand quilting, applique, embroidery and trapunto, were all so impeccable and the design was gorgeous.
Another magnificent traditional quilt, ElaTED, was made by Ted Storm of S-Gravenzande, The Netherlands. "I started with my least favorite color and fabric: brown and plaid. From there I took off, inspired by Delftware elements. It was fun to create eight different asymmetrical designs in a symmetrical setting." Like the last one, the hand work was incredible. This quilt was in the Traditional Applique category and won the Founders Award.
Here are two amazing pictorial quilts. Kathy McNeil of Tulalip, WA, made the arch, Natural Wonders, and won first place in the Art-Naturescapes category. There was so much detail in this quilt, with tiny star-fish on the rocks and the use of 123 applique fabrics to produce such a realistic but imagined scene. The Rainbow Lorikeet was made by Helen Godden of Latham, Australia. The quilt received an Honorable Mention in the Art-Painted Surface category. It was beautifully machine quilted, both on the background and on the bird.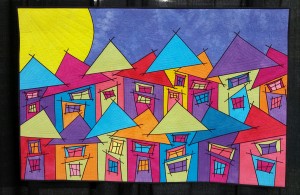 These bright and cheerful whimsical houses caught my attention. Tutti Frutti Village was made by Susan Bleiweiss from Upton, MA. The techniques are fused, raw-edge applique with machine stitching and machine quilting. Susan won Honorable Mention in the Art-Whimsical category.