After visiting the La Conner Quilt & Fiber Arts Festival, I continued on to Fidalgo Island where I gave two lectures in Anacortes for the Fidalgo Island Quilt Guild. At the Show and Tell in one of the guild meetings, Carol Jones shared her lovely Kaleidoscope Puzzle quilt. Carol took a class from me in May at In Stitches Quilt Shoppe in Anacortes. She used 10″ Layer Cake squares in combination with her multicolored theme fabric. She says in retrospect she shouldn't have used so many different fabrics, but I really like how it turned out and the way she blended the fabrics at the top and bottom with the background. It has a wonderful translucency about it and I was so pleased that she brought it to show me.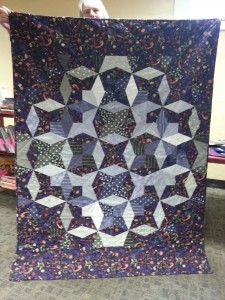 The next day, I taught my Bargello Quilts with a Twist workshop at In Stitches. It was fun to teach at the store again and three of my students, including Carol took my class there in May. Another took a class from me at Fabric D'eva in La Conner in August. Here are some of the attractive blocks they made.
I can't resist sharing some scenery pictures with you. Fidalgo Island is such a beautiful place and I'm particularly fond of Rosario Beach State Park, not far from Deception Pass. When we first came to the States 30 years ago, we spent our summers at the Walla Walla College Marine Station adjacent to the park. The long building next to the beach is the lab and library. We stayed in little cabins up by the trees which I believe have had a total face lift since we were there.
The Maiden of Deception Pass stands majestically in the park. Do read her story. She wasn't there for our first couple of summers. Now, 27 years later, she is well weathered and looks very natural. I was fortunate to enjoy the pretty late afternoon light and a golden sun with shimmering reflections on the sea. I highly recommend this special place to you if you are the Anacortes area.