Here are some examples from the wonderfully whimsical MOO-Ston exhibit, curated by Melanie McFarland and Mary Lou Weidman. From a pattern in the book Out of the Box with Easy Blocks by Mary Lou Weidman and Melanie McFarland, friends and students have customized the "Purple Cow" into various bovine-inspired themes.
"Cow Town" by Mary Lou Weidman (WA) and quilted by Kathleen Woods is the first in a series made using the Purple Cow pattern. Mary Lou writes, "The body of this cow is made up of small houses with names over the doorways. I've named them after loving family members. It's all about the fun – the udders are hot dogs!" Indeed – what fun! "MOOdern" is another by Mary Lou, and quilted by Kathleen. She used a cheater fabric from Robert Kaufman with the colors and shapes already there to make this cow in the "modern" style.
"MOO-ey COWliente" by Tina Nappl (CA) is made from a variety of chili fabrics. Even the lettering has chilies on it and the body of the cow has chilies of many colors. Check out the end of the tail too! " BOO-MOO" by Molly Evangelisti (CA) and quilted by Kathleen Woods has a Halloween theme, Molly's favorite holiday. This cow is dressed and ready to party! I love her curly green spider shoes and pumpkin udders.
Here is "Moody Blues" by Laurie Latta (WA), quilted by Karen Brown. Laurie was inspired after attending a retreat with this exhibit's curators, Mary Lou and Mel. She chose the theme based on her overabundance of blue fabric. She loves that her cow is part of the herd that has been traveling round the country. "She Eats the Meadow Flowers" by Rebecka Schafer (NE) and quilted by Rick O'Neal was inspired by a children's poem by Robert Louis Stevenson about a cow that is loved and that likes to eat the meadow flowers. Great use of a variety of black and white prints in this cow and the eyes are wonderful.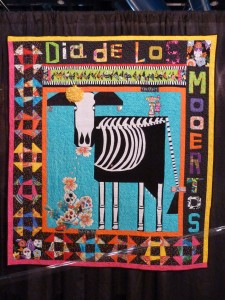 "Dia de los MOOertos" by Patricia Wood (TX) and quilted by Gaye McNett celebrates Patricia's daughter's love of Dia de la Muertos. This skelletal cow is embellished with a variety of beads and the yellow flower is made from and old T-shirt. The udders are skull buttons and the cow is eating flowers from a pile of skulls. I really liked the strong graphics of this cow and the colorful borders with skewed Monkey Wrench blocks and wonky Flying Geese.
This was an exhibit which made people laugh and smile. The cows each had their own characters and many were heavily embellished with all kinds of amusing details in a variety of materials. Perhaps this herd will travel in your direction. If so, be sure to visit them.