Over the years I've admired the work of Libby Lehman and was excited when she visited my local quilt guild to lecture and teach a workshop a few years ago. Libby is known for her exuberant colorful quilts and her brilliant use of thread in a playful way that adds an additional dimension to her work. She has traveled all over the world inspiring quilters with her creativity and good humor. Unfortunately, Libby suffered an aneurysm about six months ago which burst in her brain. She had two major surgeries followed by a stroke and is now residing in a senior retirement center. Her contribution to the quilting world was honored in a special exhibit.
Here's a large white board, a We Miss You sign, where quilt show attendees could write messages for Libby and send their get well wishes. The quilt on the right is one of Libby's well-known pieces made in 1994, Tidewaters. Below are examples of her recent work from 2012.
Watch Your Step: Fall and Watch Your Step II: Mushrooms
Watch Your Step V: Back Porch – full and detailed shots.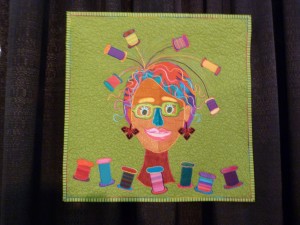 Here's Libby's humorous self-portrait, also from 2012. To see more examples of Libby's work, check out her website.