I've had an enforced break since my return home from Texas. Who knows where cough and cold germs linger – whether in Texas, on the airplane or ferry, or right here on Bainbridge Island, but apparently I was an easy target. After three days of not functioning at all well, I'm now regaining my strength and my head feels only partially wrapped up in cotton wool. It really makes me appreciate the good health I enjoy almost all the time and tend to take for granted.
On the topic of health, in particular healthy eating, I snapped some photos in Old Town Spring, Texas which amused me and which I hope you will enjoy. Eat Hot Sauce. Live Longer! Longer than what, I ask myself!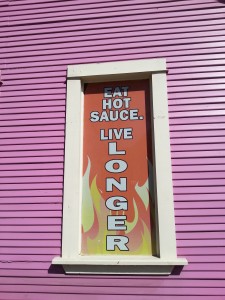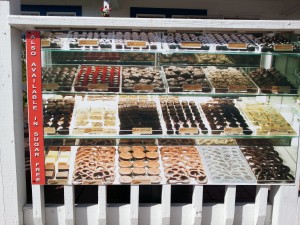 Also Available in Sugar Free. How can this be? These almost look like quilt blocks.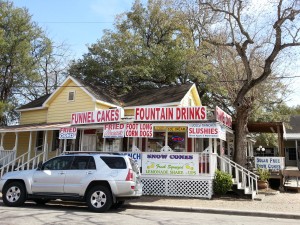 On offer here – fried oreos, fried Reese's peanut butter cups, funnel cakes and foot long corn dogs! They also had stuffed jalapenos and sugar-free snow cones! Old Town Spring was quite the local tourist destination and it was fun to visit. Thanks again to Carol Ayre and the Woodland Area Quilt Guild for making me so welcome.