I had a wonderful time last October teaching at Ocean Waves Quilt Camp on the Oregon coast, just north of Tillamook. Quilt Camp is an annual event organized by Jane Wise the owner of Jane's Fabric Patch quilt shop in Tillamook. My good friend Nancy Watts is a regular attendee at this annual event and suggested I contact Jane about teaching. If you are looking for a quilting get-away with three days of workshops from a wide variety of teachers, this is a great opportunity in the beautiful location of Twin Rocks Camp. There were about eight teachers and 85 attendees. Here we all are. Jane in her hot pink jacket is in the front center.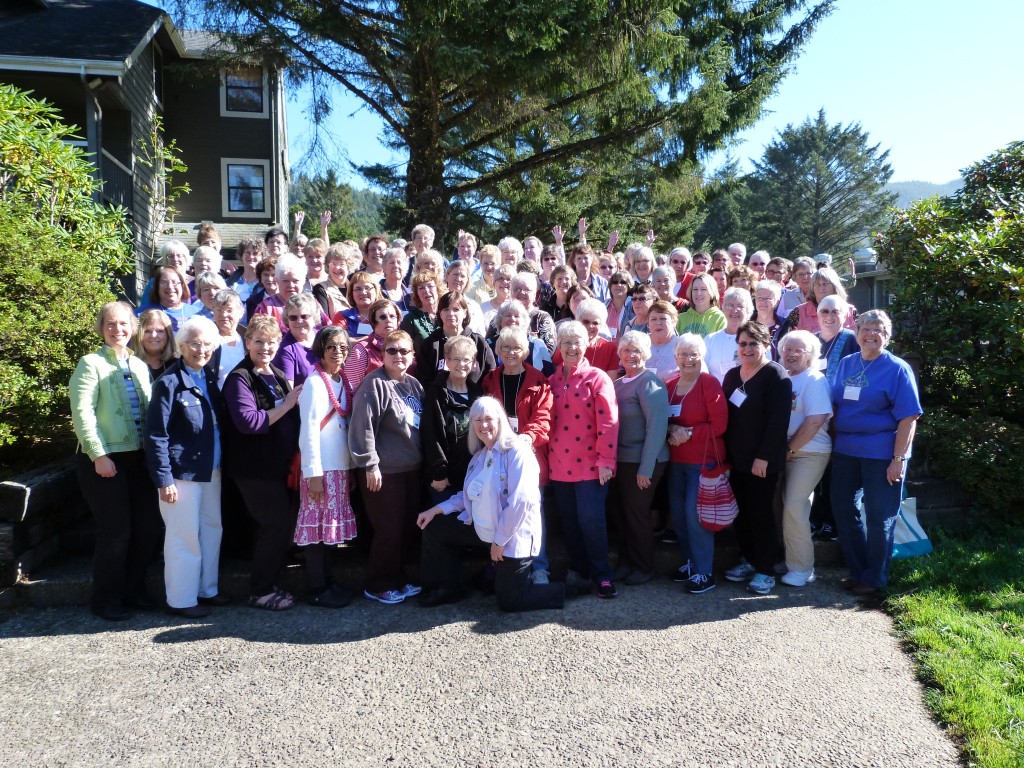 I taught workshops on all three days. Here's my classroom during Bargello Quilts with a Twist. On the other side of the partition, Peggy Gelbrich was teaching and the photo on the right shows some of the beautiful pieces her students made in her Swinging on a Star class.
Here's a couple of Bargello block arrangements from students in my class. On the Christmas one, the cardinal is fussy cut to go in the center of the four middle blocks. The blocks look great.
On the last night, we had show and tell. Nancy took these pictures of some of my students displaying their projects. It was fun to see everyone's work. A couple of my students did study hall for a day after taking the Kaleidoscope Puzzle class, so they made great progress with their larger pieces.
I enjoyed seeing projects from other classes too, and several people brought completed quilts from previous quilt camps. It was a wonderful grand finale to an action packed three days of fun (including jokes read out by Jane at every meal and many door prizes). As an added bonus, the food was excellent. I can highly recommend this camp and I know that Jane will welcome you as will all the regulars who have been attending for years.