The sun was shining when I was out walking this morning and I saw these beautiful daffodils – a true sign that Spring is springing in time for the first official day of Spring tomorrow. The yellow was brilliant and so pretty. I began thinking about the way I use yellow in my quilts.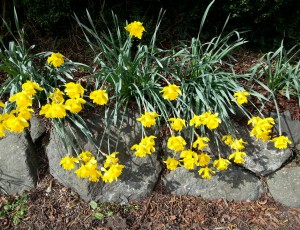 A small amount of yellow goes a long way. Yellow can be a real eye-catcher or zinger, and a little bit can really add some punch to a design. In larger quantities, it may quickly become dominant and overpowering. Try to audition your fabrics to get a feel for how much yellow looks right. I like to use yellow in a triad combination with the other two primary colors, red and blue, as in the example below. This quilt, Deck of Pansies, is one of my Bargello Quilt with a Twist quilts with the 16-piece Bargello blocks arranged in the Card Trick layout. You can see how the yellow circles pop in the corners and the yellow pansies in the center help to define the overlapping Card Trick pattern. The yellow pansy fabric is repeated in the border and adds a nice frame to the piece.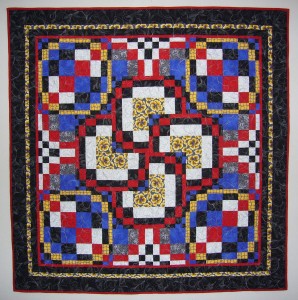 Yellow works well with purple too, it being complementary to purple on the color-wheel. I also enjoy making quilts from black and white fabrics with a dash of yellow and red. This combination can be stunning. I encourage you to give it a go!