On Wednesday evening I presented my trunk show for the Quilters By the Bay in University Place near Tacoma. They are a small but active group. It was nice to be able to drive – I could take more quilts to share including several large ones that I can't carry when I go out of state to teach. I was so excited that one of the ladies brought a beautiful Bargello block quilt to show me. Here is Delores Slingerland with her quilt, Buggy Barn with a Twist.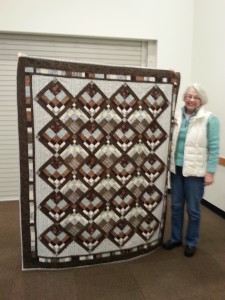 Delores took my Bargello Quilts with a Twist class when I taught at the Gig Harbor Quilt Festival three or four years ago. She used Buggy Barn fabric, their ice and mocha line and based the design on my quilt, Savannah Sunrise, shown below. What fun to see this quilt in such a different color way. Thanks to Delores for sharing her work.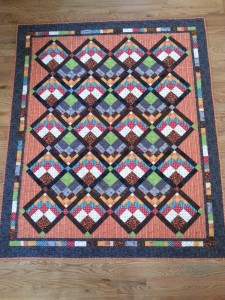 The meeting took place in the Pierce County Environmental Services Building, a beautiful facility on the bluff overlooking the Puget Sound. Half way through the lecture, I told the ladies to turn around and look at the sunset because it was so spectacular. To get to University Place, I drove over the Tacoma Narrows toll bridge, a huge suspension bridge spanning the Puget Sound Narrows. Here's a view of the bridge from Titlow Park, where I had a picnic before the meeting.