My quilt, Almost Modern Jacob's Ladder, (78" x 78"), is a finalist in the National Quilt Museum contest, New Quilts from an Old Favorite 2013. Each year there is a quilt block theme and contestants are challenged to create an original design derived from the block. My design idea gelled when I found the perfect large scale prints. I emulated today's "modern quilts" by enlarging the Jacob's Ladder block and including large areas of negative space. However, this quilt is contrived, with fussy-cut fabrics and a precise border, so it isn't entirely "modern". Then again, it was made in 2012, so by definition, it must be modern!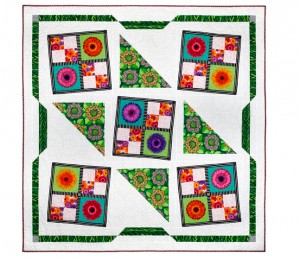 The quilt was completed in collaboration with my good friend Wanda Rains, who did an outstanding job on the machine quilting. Here's a detailed shot which I hope will showcase her beautiful work.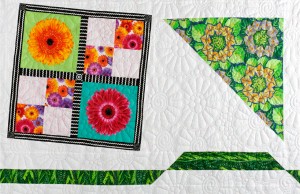 The quilt will be displayed in the National Quilt Museum in Paducah, Kentucky from March to June this year. Then it will tour the United States for another 18 months, so when I sent it away in December, it was good-bye quilt for two years. It will also appear in the AQS book – Jacob's Ladder, New Quilts from an Old Favorite, available soon. If you attend the AQS show in April, be sure to make time to visit the wonderful museum and to see all the finalists in this contest.