Last week I went to Tacoma to lecture at Quilters by the Bay. The guild member who hosted me, told me about a new quilt shop that opened about 6 months ago – Calico Threads, located at 2727 N Pearl Street. I had a delightful visit there and the window cleaner was at work when I snapped my photo of the outside of the store!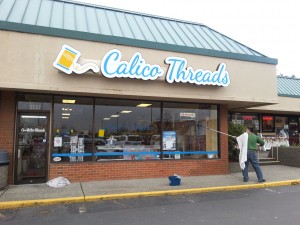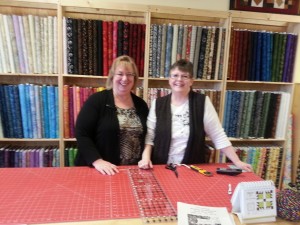 Owners Donna Denman and Sandi Pickering were friendly and welcoming. Both have several years of experience working at Quality Sewing & Vacuum stores in the area and have a wealth of knowledge on sewing machines and quilting. They have a good inventory of fabric and notions.
Something I loved about the store was an area with several high quality sewing machines set up and ready for use. Donna and Sandi encourage customers to come and sew in the store, without having to lug machines in and out, and they have frequent "Sew-cials". They enjoy being able to do some sewing too, if they have a quiet spell between customers.
Do visit the store if you are in the Tacoma area. They will be participating in the Western Washington Shop Hop In June.