I was thrilled to be one of the quilting teachers on this 10 day Quilt N' Cruise trip to Alaska on-board the Golden Princess cruise ship, sailing from San Francisco on 10th August and returning on 20th August. This enormous ship had about 2,000 passengers, 70 of whom were quilters taking classes from the four teachers. Not a moment at sea was wasted! We had a two day class while we were sailing north to Juneau, and then two days of classes on the way back from Ketchikan with a break of a day for a stop in Victoria. The Alaskan scenery was spectacular and the quilting was great fun!
The camaraderie was excellent and my students were enthusiastic and productive. I loved making new friends and acquaintances and the benefits offered by two day classes giving us more time to get to know each other and to make progress with the projects. My concerns about the teaching space were soon dispelled when I saw the size of our dining room classroom. It was a huge room divided into different areas. Despite my large class sizes, my students had plenty of space to spread out if they wanted to lay out their blocks etc. Each teacher had their own area and we didn't disturb each other at all. We couldn't have irons in the classroom so used wooden irons which worked out just fine and students could go to the laundry rooms to iron their completed strip sets and blocks.Here I am with my 26 Bargello Quilts with Twist students.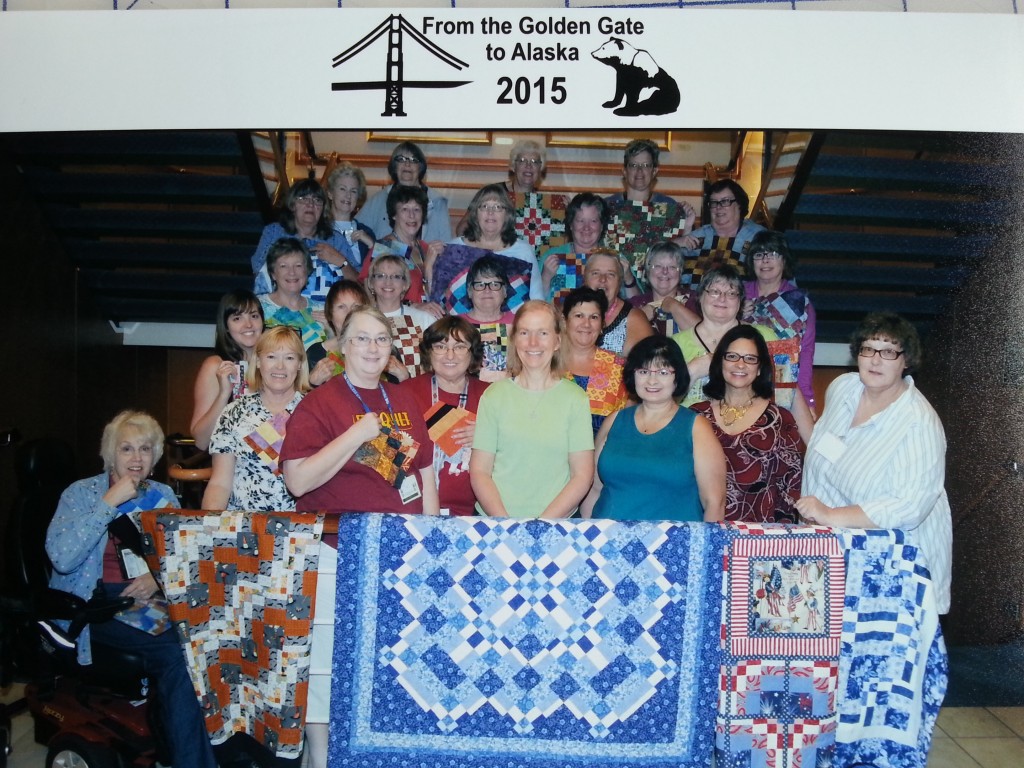 In addition to class-time quilting, students could sew in their own cabins and there was a room available on several evenings for communal sewing. Some people opted to stay on the ship instead of going on land excursions. I was astonished at the work done and the progress made. By the end of the trip, several people had their Bargello blocks assembled into quilt tops. Coline Simmons worked tirelessly and completed 100 Bargello blocks to make this lovely queen-sized top! Coline also took my second class on the way back to San Francisco and completed 49 template-free Kaleidoscope blocks! Here is Marina Muller with her Kaleidoscope Puzzle quilt top. I taught Marina at the South African Quilt Conference in 2013. It was such a delight to have her with us on the cruise, all the way from Namibia!
Thank you to all of my students and to Terry Caselton of Pam's Travel for giving me the opportunity to teach on this cruise. I hope that I'll have the chance to meet some of my students again, if I teach at their guilds or we are able to cruise together another time. Here's my Kaleidoscope Puzzle group.