At the end of September, I traveled from west to east across Washington State to Spokane where I taught. I drove on Interstate 90 until just after I crossed the Columbia River, then I headed northwest to Ephrata and then went along Highway 28 instead of returning to the Interstate. This enabled to visit two quilt shops, one in Ephrata and one in Odessa, as well as to enjoy the interesting countryside which is so different from Western Washington. The Fabric Patch, located at 220 10th Avenue SW, was a wonderful surprise. From the outside, it didn't look like anything special, but inside there was a treasure trove of more and more rooms filled with fabric and quilting supplies.
It is the largest shop in North Central Washington with over 6,000 bolts of fabric and a wide selection of notions, books and patterns.
There was a whole room dedicated to holiday fabrics and fun projects including wonderful pieces for Halloween and Christmas. Look at the charming pumpkin, owl and Christmas tree quilts.
Then there was an abundance of theme fabrics, from sports to animals and more. Here are some great vegetable fabrics.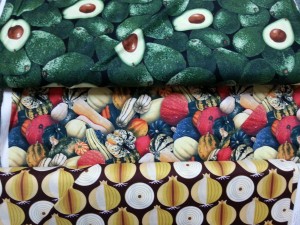 Ephrata is only a 10 miles away from Interstate 90 just north of Moses Lake so it is well worth the detour even if you decide not to opt for Highway 28 for the rest of the journey to Spokane.