I love to travel and teach, exploring new places and going to areas I wouldn't necessarily visit without the teaching job. I've met some wonderful people and like the workshops where I can spend a whole day with a smaller group. It's fun to see what each student brings to class and how they interpret my instructions. My goal is always for my students, whatever their skill levels, to feel successful, as well as enjoying the class. Quilt guild members always welcome me and are generous with their time, meeting me at the airport and showing me round the local sites which usually include a quilt shop or two. Often I stay at the home of guild member, or sometimes at a hotel.
Packing for these trips is a quite a feat. My most popular lecture is the trunk show where I display up to 40 quilts, but even if I do a PowerPoint presentation, I take as many quilts as I can for the lecture and workshops.  All airlines charge for checked bags, (prices range from $20-35/bag), and I check two that are carefully packed and usually weigh within 1-2 pounds of the 50 pound limit. One is completely filled with quilts and I record exactly which ones so that I can pack in the same way coming home and know that I won't exceed the weight limit. The other is three-quarters filled with quilts and workshop materials, with the remaining quarter for my clothes. I have to be able to board the ferry to and from Seattle as a foot-passenger, so my hand luggage is a small backpack and a shoulder bag, leaving my hands free for the two large suitcases. I usually take my laptop computer and sometimes my digital projector. Thank goodness for wheels!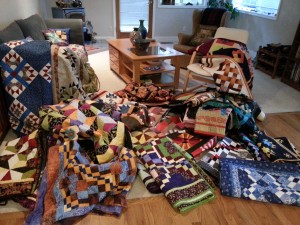 All these quilts fit into the suitcases! After a lecture, the quilts are usually packed up in a hurry and guild members who help, can't believe how I can fit them all in and still have room for my clothes. They have to be folded with the minimum number of folds to fit into the cases. Usually it takes me about half an hour to sort them all out and re-pack. Another logistical hassle is my books, patterns and the Mongolian products. I can't carry these in my luggage, so I send a couple of packages ahead. It's impossible to accurately estimate the number of books that I will sell. Sometimes I sell out completely, and other times I'm left with a big pile. I've often been fortunate to sell leftovers to a local quilt shop at wholesale rates. If I can't carry what's left in my hand luggage, I have to pack up a parcel to mail to the next place where I'm teaching, or back home.
As part of my fund-raising efforts for Mongolian Quilting Center, I ask guild members for a small monetary contribution. If we raise $100, the guild is given a Mongolian silk table runner or wall hanging which they can use in a raffle or for any special guild event they choose. With 100+ people at the lecture we often raise over $200 in this way, much of it in $1 bills or coins. This may sound trivial, but the coins are heavy and I already have so much to carry! I have to rely on a kind guild member to relieve me of all the change or to take me to a bank.  Guild members are generally extremely helpful and understanding.
Sightseeing highlights from teaching trips have been three Presidential Libraries, the Forth Worth Fine Art Gallery, art in the Mayo Clinic, Chicago Fine Art Museum, Royal Gorge in CO, a variety of botanical gardens and parks, and some incredible beaches. I always love coming back home too, and greatly appreciate the natural beauty of the Pacific Northwest.