Our small Block of the Month group recently met at Joanne's house, near Port Townsend in a beautiful spot overlooking Discovery Bay. This is the view from the window of Joanne's quilting studio – Bald Eagles fly by and the Steller's Jays are always busy.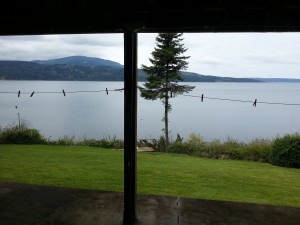 Joanne shares her studio with her resident feline friend, Lucy. Lucy made herself very comfortable and was oblivious to our activities. Barbara was working on a Disappearing 9-patch quilt for charity. Her church has an active group that makes quilts to send to Africa. Joanne finished machine quilting her quilt and was trimming it up and making the binding. I worked on piecing some Sawtooth Stars.
Joanne made made these quilt tops using an Eleanor Burns pattern. One jelly-roll makes three quilt tops. After making the ones on the left, she decided that she would like to make one large quilt using the blocks from all three in batik fabrics. Joanne is prolific and always has projects to share and inspire us. She also participates in a group that makes Quilts of Valor for wounded servicemen. Here are three of these quilts ready for binding.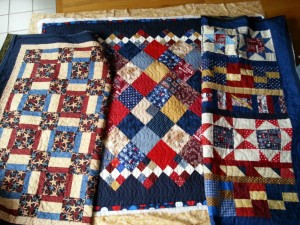 .