A couple of weeks ago, I had the good fortune to be a member of the teaching faculty at the North Carolina Quilt Symposium hosted by the Asheville Quilters' Guild. 350 quilters were in attendance for the four days of events and classes from 17 teachers on the campus of the University of NC in Asheville. We had a wonderful time and the Asheville quilters worked tirelessly to give us a warm welcome and to make everything run smoothly. Here is the banner which was ceremoniously passed along to the group hosting the event, "Quilt Stock", next year at Lake Junaluska not far from Asheville. I love the quilt in the backdrop.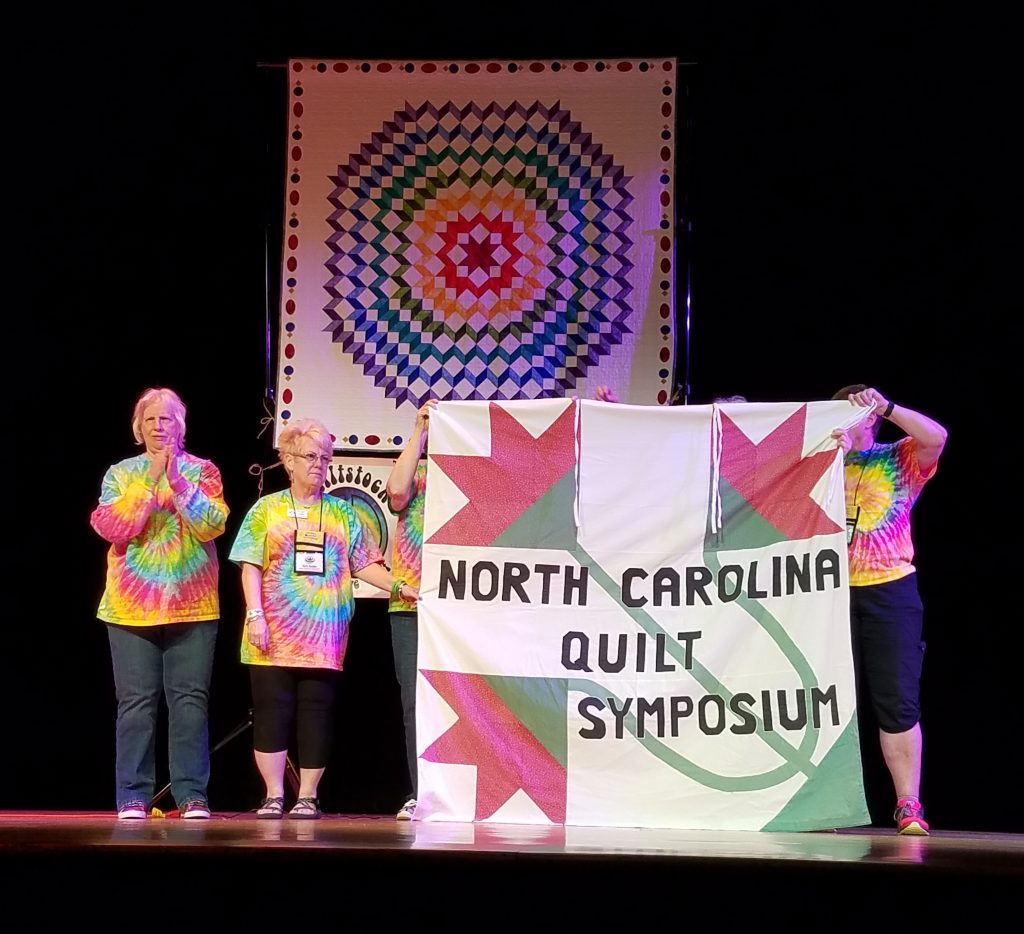 The quilt show was an exhibit of the teachers' work and we were each invited to submit five quilts to represent our work and published material. My five quilts were all hung toether. Here are all five and a single shot of Winter Garden, my Bear's Paw variations, featured in my book, Traditional Quilts with a Twist.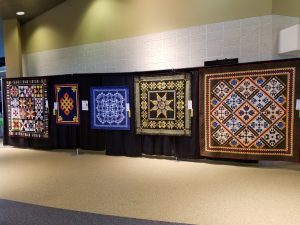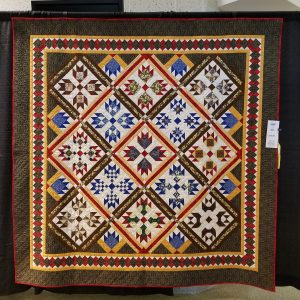 The other four quilt are as follows, from left to right:
Retro-Radiation made from 16 of my Op-Art Kaleidoscope blocks.
Gateway to Mongolia is based on a design from the door of a yurt. This Olzii symbol is thought to bring long life and prosperity and in the Buddhist faith it symbolizes the universe and never-ending cycles of life and death.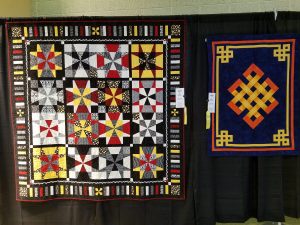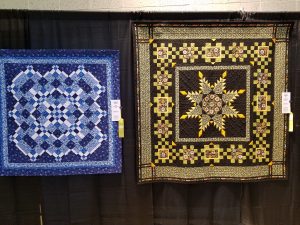 Bainbridge Delft,  the blue and white quilt, is made from 24 of my original 16-piece Bargello blocks and is featured in my book, Bargello Quilts with a Twist. The book may be ordered from my on-line store.
Brideshead Radiance, is a 28″ Feathered Star with borders added. The borders were inspired by a wooden table with an inlaid wooden pattern which I saw at Castle Howard in Yorkshire, UK. The movie, Brideshead Revisited was filmed there, hence the name of the quilt.
Patterns are available for Gateway to Mongolia, Brideshead Radiance and the Op-Art Kaleidoscope technique at my on-line store. For the Op-Art Kaleidoscope technique, check out my YouTube Videos.