As we approach Veteran's Day, it seems appropriate to remind you all of the opportunity to make patriotic quilts for wounded veterans or for family members of veterans killed in action. American Hero Quilts is one such group that does this. At our Bainbridge Island Quilt Fest in September, sponsored by the Bainbridge Island Modern Quilt Guild, there was a Sew In to make quilt blocks for a quilt to donate to this group.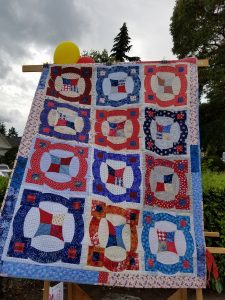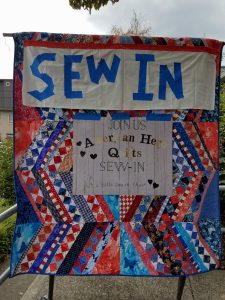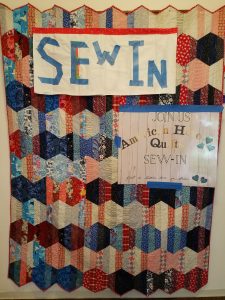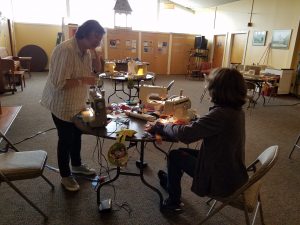 Anyone could participate to sew simple 4-patch blocks, or string-pieced blocks to make a replica of this antique quilt using patriotic colors. The new blocks are much more vibrant in color, the antique quilt having faded with age. This project was coordinated by Marybeth O'Halloran and Barbara Kirk.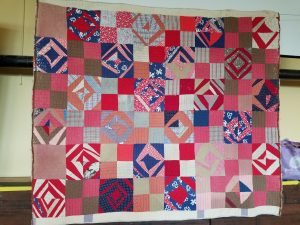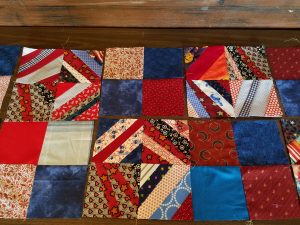 The American Hero Quilts organization was established in 2004 to provide recognition and appreciation to wounded service men and women who served in the Iraq and Afghanistan wars. Each quilt as a metaphoric hug and a way to express gratitude for their service to our country. There are now over 800 volunteers participating in the program, ranging from piecers, binders, quilters and other helpers, including generous contributors.  As of the first of the year in 2018, over 26,500 quilts had been provided to deserving men and women and their families. The quilts are sent to Madigan Hospital at Joint Base Lewis McCord, other Warrior Transition Centers in the US, and directly to bases in Afghanistan.