On Friday afternoon I drove 142 miles to Forks, out by the Pacific Coast in the northwest corner of WA. A couple of years ago, I taught at the Piecemakers Quilt Club and I was delighted to be invited back to teach again. Forks, a logging town, has received attention in recent years as the location of the Twilight series and this has resulted in a much needed mini-economic boom after the demise of logging when the Spotted Owl became a protected species. It is one of the wettest places in the USA with an annual rainfall of around 100″.
I stayed for two nights and was treated to fabulous cooked breakfasts at Misty Valley Inn. Here's the wonderful view from the dining room complete with Steller's Jays eating breakfast too.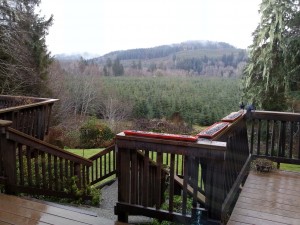 I thoroughly enjoyed the day with my students whose skill levels ranged from a new quilter to a lady with 60 years of experience! They were an easy-going relaxed group and we had plenty of laughs. I taught my 9-Patch Lattice class – insert a lattice into any 9-Patch block to create an innovative twist and a new look. Here are some of the class samples – Ohio Stars and Simple 9-Patch.
In this detailed shot of my Monkey Wrench sample, you can see the lattice more clearly. It's fun to experiment and vary the colors in the lattice strips.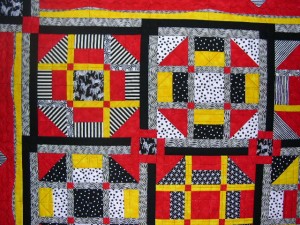 Here are some of my students at work. It was spacious room with excellent lighting and everyone had their own large table.