As I mentioned in my last blog, the theme of the Quilt Festival in Bloemfontein was Kaleidoscope, and the wild-pump image was used as recurring motif to represent this. In the entrance way to the quilt show there was a beautiful quilt with blocks of farmland scenes. There was no label attached, but I think it was made by a member of the host guild, the Oranje Kwiltersgilde. Here's a detailed photo of the lovely wind-pump. Also, check out the beautiful hand-made awards ribbon with the windmills.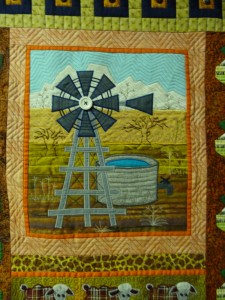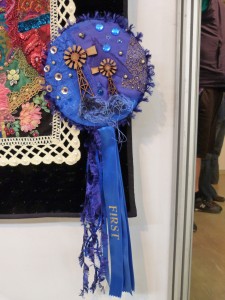 The quilt show was spectacular and over the next few blogs I'll be posting more quilt pictures. Some of the quilters asked me, "How does our quilt show compare to the national level quilt shows in the USA?" I responded that while the show was on a smaller scale, the quilts were of a high standard and many would do well at the national or international level. I was very impressed. There were so many vibrant and inspiring quilts with plenty of color. Here are the award winners in the Kaleidoscope theme category.
On the left we have the third place winner, "Kaleidoskoop" (74 cm x 67 cm), by Iessie Steenberg (Quilt Festival Chair). Iessie was inspired when she took a class from Kathryn Hamer Fox. Iessie writes, "Kathryn helped me transform the real image of a "windpomp" into a logo. Being a traditional quilter, working with raw edges can be challenging BUT also very stimulating." The second place winner has a lovely tree of life with a variety of birds and wonderful windmills as well as Kaleidoscope blocks. It's called "Kaleidoskoop van kwetterendevinke 'n Bos" (78 cm x 80 cm), by Mari Claase. Unfortunately, I can't read the Afrikaans that she wrote about this quilt, but I thought you would enjoy the photo of it.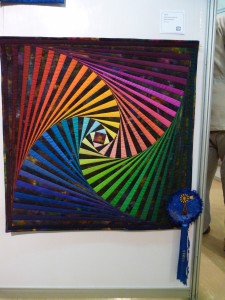 The first place quilt was colorful twisted Log Cabin. The photo really doesn't do this quilt justice, Some of the colored pieces were silk and just glowed. It was a magnificent piece entitled "Kaleido through an Eagle's Eye" (80 cm x 80 cm), by Elmine van de Walt. It was fun having Elmine as a student in my Op-Art Kaleidoscope class.