My blogs on the quilt show at the South African Quilt Festival in Bloemfontein would not be complete without sharing the exquisite Celtic applique that was displayed. Sue Prins, well known quilting teacher and judge, designs amazingly complex patterns and inspires her students to make beautiful quilts. The Best of Show quilt, Marakesj, 130 cm x 145 cm, was designed by Sue and superbly executed by Suzette Ehlers. This stunning quilt was hand appliqued and hand quilted.
Suzette made another quilt Celtic Persian, 98 cm x 153 cm, which received a second place award in the traditional category. This one was also designed by Sue and the inspiration came from the pattern on a Turkish carpet. The colors were all drawn from the main floral fabric.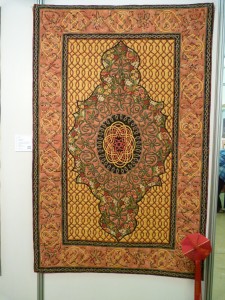 I was excited to see one of Sue Prins' quilts displayed in the non-judged part of the show. This amazing hand pieced and appliqued bed-sized quilt is a rich combination of English paper-pieced elongated hexagons from fine lawn Liberty of London fabrics, and Celtic work. The detail is incredible and I love the loops around the edge. Sue's hand-quilting is also outstanding.