My favorite special exhibit at the APWQ Show was a display of 32 beautiful star quilts all featured in Cheryl Malkowski's book, Blocks to Diamonds, C & T Publishing, 2010. Cheryl transforms traditional quilt blocks into diamond shapes which are then set into Radiant Lone Stars. She uses a variety of starting blocks in her designs and the quilts are colorful and absolutely stunning. Here's a sampling from this inspiring exhibit, Kaleidoscope Star Quilts from Traditional Blocks.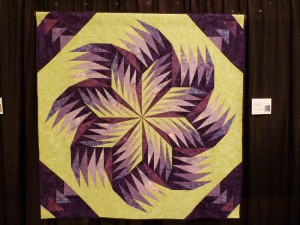 My Whirlwind Romance by Cheryl, is made from elongated Flying Geese units within the diamonds of the star. This quilt has such motion and the light limy green background is the perfect setting for this striking purple star.
Flamenco Dancer, also by Cheryl, utilizes skewed striped Flying Geese blocks in a Carpenter's Wheel setting. The vibrant fabrics are cotton/silk blends and the use of variegated thread adds a nice touch.
On the left, Crystalline Entity, made in softer colors by Louise Kindig and quilted by Cheryl, has skewed Storm at Sea blocks in a Carpenter's Wheel setting. Louise chose a smaller block and added a New York Beauty variation for the inner square blocks. On the right, Maltese Cross, by Amy Vetter has New York Beauty blocks skewed into the diamonds. Amy placed her blocks in the Carpenter's Wheel setting to achieve this lovely design.
Both of these quilts skew the Storm at Sea block into the diamond. On the left, Prairie Storm, by Cheryl Meredith and quilted by Richard Weckerle, has the small diamond in the rectangle oriented towards the center of the star. On the right, Tuscan Star, by Lois Flevelling has the star diamond turned so that the larger diamond in the rectangle is in the center of the star. Lois' wreath and feather quilting is gorgeous and really enhances this quilt.
Cheryl Malkowski is from Roseburg, OR. She is a traveling quilt teacher and the author of four quilting books. These stars were all made using her simple paperless freezer-paper piecing technique. Check out her website: www.cherylmalkowski.com.