A few weeks ago when I was in the Tacoma area, I went to Puyallup and visited the wonderful quilt store, The Quilt Barn.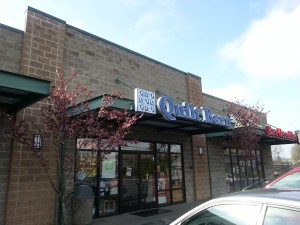 The Quilt Barn used to be housed in a red barn, but moved to this larger 6,000 square foot facility a few years ago. Pam Hewitt, owner for 10 years, has a huge inventory of 10,000 bolts of fabric with rows arranged by color, a large section of batiks, and areas with novelty and seasonal prints. The fabric bolts are a colorful feast for the eyes, but in addition, there are many inspiring quilt samples hanging high on the walls where they are nice and visible.
In the back there is a big classroom with more beautiful quilt samples hanging and Pam offers a wide variety of classes. She also has a long-arm Handi Quilter sewing machine which is available to rent after you've taken a training class. In another area, there is a comfortable book nook with couches and lamps so you can settle down for a few minutes to peruse the great selection books and patterns. I love this.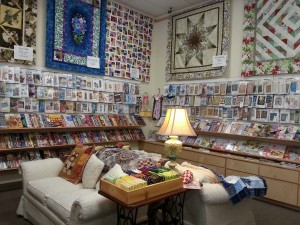 If you are in the Puyallup area, or you go there for Sew Expo in early March, it's worth taking some extra time to visit this awesome store.