Just before going to Quilt Market I had a trip up to Bellingham, almost at the Canadian border, crossing the bridge on I-5 that recently collapsed. I had a great group of students for my Bargello Quilts with a Twist workshop and wanted to share some of their work with you.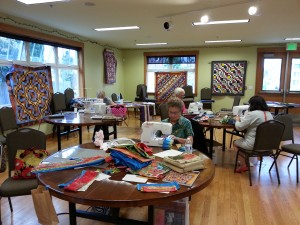 We had a nice light, large room with plenty of space to spread out. I always enjoy seeing the variety of fabrics that my students bring to class. Everyone makes different choices and they all make unique quilts. They are often inspired by one another when they see fabric combinations that they wouldn't necessarily select for themselves. Everyone pieced several blocks during class. Here are some of the results as they auditioned different block orientations and sashing fabrics.
After the workshop, a group of us went out for dinner before returning to the hall for my evening trunk show. Some of my students shared their work at Show and Tell and two people brought beautiful large Bargello Quilts with Twist quilts made from the bigger 9-1/2″ blocks. This is such a versatile technique with so many possibilities for creating different patterns.